LAS VEGAS – When Medtrade Spring convenes March 27-29, 2018, at the Mandalay Bay Convention Center, attendees will get a look at hundreds of new products. Exhibitor Pride Mobility Products Corp plans on bringing many familiar products, and some new/cutting edge ones for attendees to experience first-hand.
Pride's Jazzy Zero Turn scooter has steadily gained momentum thanks to remarkable innovation that customers want. Medtrade Monday chatted with Micah Swick, director of Pride Sales, Exeter, Pa, about why the Jazzy Zero Turn is a must-see when the show convenes in Las Vegas.
Medtrade Monday: What makes the Jazzy Zero Turn unique in the travel scooter market?
Micah Swick, director of Pride Sales, Pride Mobility Products Corp, Exeter, Pa: Jazzy Zero Turn employs patent-pending technology that we've termed iTurn (intelligent turn) and two drive motors that work in concert to allow a much tighter turning radius than previously possible from a 4-wheel scooter.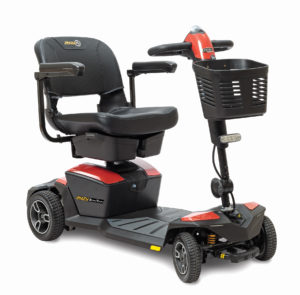 Medtrade Monday: What is iTurn technology?
Swick: Simplified, iTurn technology intelligently controls the direction and speed of each rear drive wheel, independently, to enable tighter turns, avoid drag on the inside tire, and automatically reduces the overall speed, if necessary, during the turn.
Medtrade Monday: What benefits are consumers experiencing in using the Jazzy Zero Turn with iTurn technology?
Swick: A tighter turning radius makes things easier. Just like having a small car makes getting around and parking easier in the city, being able to make tighter turns makes it easier to get around in your home, in the office, at the doctor's office, or out on the town. Jazzy Zero Turn owners can now navigate tight corners or make quick u-turns while enjoying the stability of a 4-wheel scooter for the very first time.
Medtrade Monday: Where does the Jazzy Zero Turn fit in retail providers' offerings? How is it adding revenue to their sales?
Swick: Jazzy Zero Turn sits at the top of a retailer's travel scooter line up. It has all the benefits of a travel scooter, including Pride's patented Feather Touch disassembly, with the added benefits of iTurn, as well as under seat storage, USB power, our CTS suspension, LED light package, and more; all standard. Quite simply, this is the best, safest, and most fun travel scooter available.
Medtrade Monday: Will iTurn technology migrate to other Pride scooters in the future?
Swick: Absolutely. When technology improves performance and safety, and adds comfort and enjoyability, it tends to find its way into everything; antilock brakes and power steering for example.
Jazzy® Zero Turn Product Specifics
The Jazzy Zero Turn features pantent-pending iTurn Technology™ with a tight 38-inch turning radius, creating a 4-wheel scooter with the maneuverability of a 3-wheel scooter. Independent CTS suspension, LED marker lights, extended-range batteries, under-seat storage, and feather-touch disassembly round out the features.
How iTurn Technology™ Works
Due to the two motor drive and patent-pending control system, the Jazzy Zero Turn has a point of rotation located between the scooter's two rear wheels, allowing for tighter turns. iTurn Technology™ communicates the position of the tiller to the motors and wheels, controlling their speed and direction. The inside motor and wheel slow down in a turn, and ultimately will reverse, pulling the front of the scooter around, resulting in the tightest possible turning radius.
Revenue Up at Medtrade Spring Exhibitor ResMed Inc
SAN DIEGO – ResMed Inc results for the quarter ended Dec 31, 2017 reflected revenue of $601.3 million, a 13% increase compared to the same period of the prior year. "We had a strong quarter with double-digit revenue and operating profit growth," said Mick Farrell, ResMed's CEO. "Our masks have performed well around the world, device sales are solid, and our cloud-based software continues to grow rapidly. Our operating excellence initiatives are achieving leverage in the business with more runway ahead."

Farrell concluded: "We recently announced our first ResMed branded portable oxygen concentrator, called Mobi, which will launch in the current quarter. Mobi exemplifies patient-centered innovation and our commitment to pioneer products and create value with services and solutions that improve patients' quality of life, reduce the impact of chronic disease and save healthcare costs globally."
Income from operations for the quarter was $146 million, a 51% increase compared with the quarter ended Dec 31, 2016. Non-GAAP income from operations for the quarter was $157.3 million, a 20% increase compared to the same period of the prior year.