LAS VEGAS – Providers who have not yet seen the Revo® 2.0, a scooter from Pride Mobility Products Corp, will get a chance when Medtrade Spring convenes March 27-29, 2018, at the Mandalay Bay Convention Center in Las Vegas.
The Revo 2.0 is designed to meet consumers' needs by combining rugged performance with feather-touch disassembly. Pride's patented Comfort-Trac® Suspension (CTS) handles varied terrain and offers a smooth and comfortable ride. Medtrade Monday chatted with Micah Swick, national sales director, Pride Mobility, to hear more about how Revo 2.0 can help providers drive cash sales.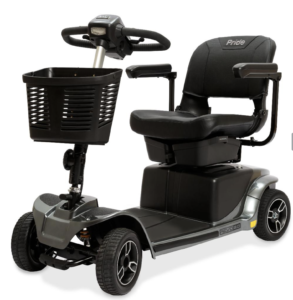 Greg Thompson, editor, Medtrade Monday: What was the thinking behind the creation of this scooter?
Micah Swick: Pride's Go-Go line of travel scooters has dominated the scooter industry for several years. Consumers around the world have preferred the styling, size, and ease of transporting, thanks to feather touch disassembly, of the Go-Go travel line. Revo 2.0 builds on the success of the Go-Go line with a more rugged, durable construction, a wider seat, increased leg room, and higher weight capacity. This is a new class of scooter that melds the benefits of a travel class scooter and a traditional mid-size scooter for the very first time.
Medtrade Monday: What is "feather touch disassembly"?
Swick: Pride's exclusive feather touch disassembly allows a scooter to be effortlessly broken down into a few light weight pieces for ease of handling and transportation. Revo 2.0 is easily transported in the trunk of even a small car or the back of a minivan.
Medtrade Monday: How can Revo 2.0 help HME providers drive cash sales?
Swick: In today's retail environment, HME retailers are competing with every other retailer and product segment for our consumer's expendable income. It is well understood that expendable income is generally allocated to wants over needs, however, consumers are most compelled to make a purchase when a product appeals to both wants and needs. Revo's transportability, rugged construction, and higher weight capacity meet the needs of today's consumer while it's modern styling, fashionable color options, USB charging port, under seat storage and more make it a very appealing and desirable product.
Medtrade Monday: Will Medtrade Spring attendees have a chance to see this product?
Swick: Yes, but actually Revo 2.0 is available now. And as has been the case with our new Jazzy Zero Turn scooter, demand is proving to be very high.