NAPLES, FL – As a relative unknown at last year's Medtrade, Stabilized Steps won an Innovative HME Retail Product Award with its patented Stabilizers, designed to easily attach to existing walkers. This year in its second Medtrade appearance, Florida-based Stabilized Steps solidified its presence with a strong showing at the nation's largest HME-focused trade show.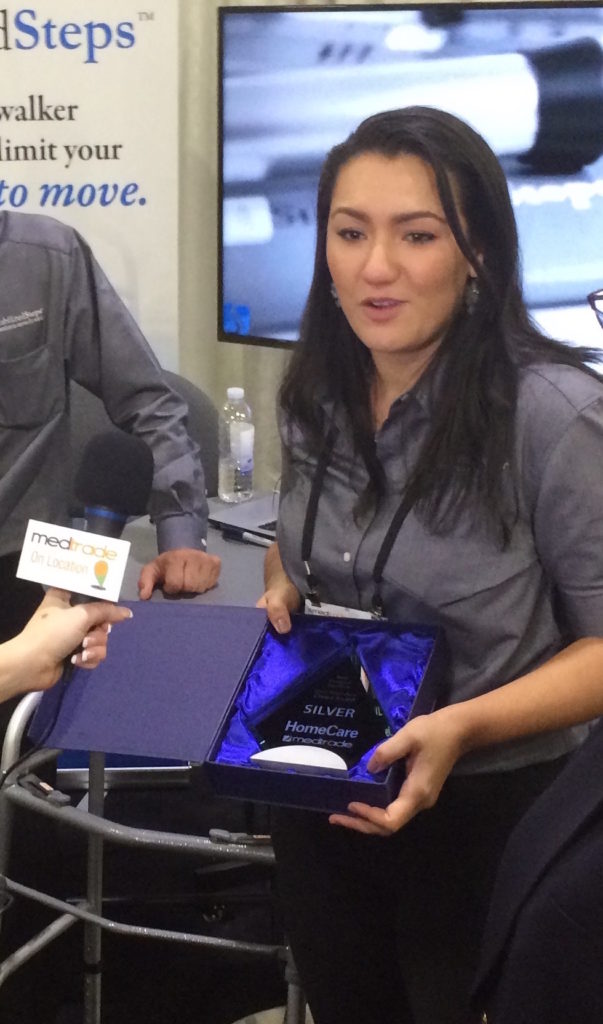 Medtrade Monday sat down with Stephanie Gomez (shown here at last year's Medtrade), co-founder, president, and CEO of Stabilized Steps, makers of Stabilizers, to talk about the latest updates to the company's flagship product, as well plans for the future.
Medtrade Monday: Please describe your product for those who may not have heard of it just yet.
Stephanie Gomez: Our patented Stabilizers easily attach to patients' existing walkers, allowing them to be more stable, increasing safety and independence indoors, and giving them confidence and stability outdoors on various terrain—grass, sand, snow/ice. Elongated design increases stability to help prevent falls, allowing users to continue their daily activities. Custom molded nylon or rubber pads provide better traction and supports up to 500 pounds. Fits most standard walkers. With the new rubber pads, the walker user can now take the walker all the way into the shower for better stability.
Medtrade Monday: What changes/updates/additions (if any) have you made to the product since its inception?
Gomez: We have added an option for the bottom pads. Now you can get them in Nylon or Rubber. The rubber pads allow the walker to be stable on slippery surfaces such as melting snow or wet surfaces, inside the shower, and around the toilet (using the walker as mobile toilet rails). This was timely, especially for the holidays, as our product is a great holiday gift.
The entire idea of our product replacing grab bars and toilet rails means that people with mobility issues don't have to be confined to their home, and can actually be able to go visit a family member or go on vacation without worrying if they will have access to an accessible room. This is truly freedom.
We have expanded our focus and included the indoor safety along with the outdoors stability. Sixty percent of falls happen inside the house, and 70% of those falls happen in the bathroom. Our product not only allows individuals with mobility issues to be stable on uneven terrain, but also increases their safety and stability indoors, especially around the bathroom or getting up from their favorite sofa or bed.

Medtrade Monday: How was your experience at Medtrade?
Gomez: This was our second time at Medtrade and we had a great show. We created great relationships and had a lot of product orders.
Medtrade Monday: What were some of your most interesting interactions with attendees?
Gomez: Our product creates a paradigm shift for the current use of the walker, so we always love seeing the reaction of people who stop by to learn more about our product.
Medtrade Monday: What are your plans for the future?
Gomez: We are currently developing three other products, all focused on improving the safety of the standard walker. The product that is almost ready for production is a wheel attachment to our stabilizers that will allow the walker user to use the convenience of the wheel and the safety of our stabilizers combined. The wheel is spring loaded, so that when walker users need to stop, all they have to do is push down on the walker and engage the rubber pads from the stabilizers.