ATLANTA – Contour Products is bringing new products to Medtrade in Atlanta this week with the launch of two new CPAP pillows. Retailers/caretailers carrying CPAP product lines are realizing profit, with more than 18 million Americans currently suffering from sleep apnea, and this number is on the rise.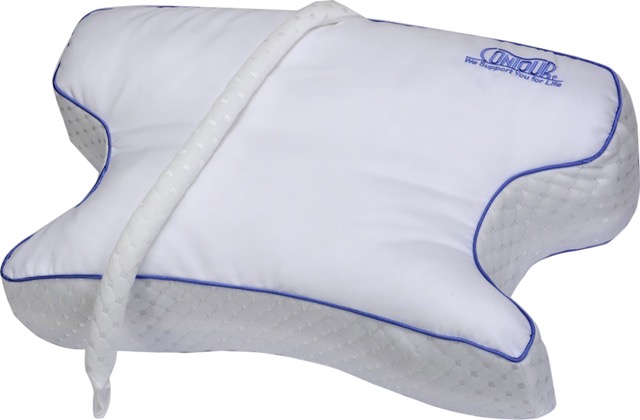 CPAP users will experience adjustable comfort with the Contour CPAPMax Pillow 2.0. The pillow features two different sides and four different heights. One side of the pillow will keep users cool with 3D mesh, while the other side features a plush traditional fiberfill pillowtop for comfort.
New and improved, the CPAP Pillow 2.0 features 50% more head area with a plush traditional fiberfill pillowtop. The pillow's special design has side pockets to accommodate any PAP mask, reducing uncomfortable pressure on the user's face. Plus, the CPAP Pillow's orthopedic shape improves airway alignment and supports the spine's natural curves.
The new pillows will be on display and demonstration, available at Contour's Medtrade Booth, #2237. Additional support pillows and accessories will also be exhibited, such as the Kabooti Seat Cushion, Flip Pillow and Cool Air Pillow.
Revenue Up at ResMed for First Quarter of Fiscal Year 2017
ATLANTA – ResMed Inc (Booth #1511 at Medtrade) revenue for the quarter ended Sept 30 was $465.4 million, a 13% increase compared to the same period the prior year. Excluding the contribution from the Brightree acquisition, revenue for the quarter was $432.4 million, a 5 percent increase.
"We had a solid start to our fiscal year with 13 percent constant currency revenue growth led by our Brightree software offerings and global device sales," said Mick Farrell, ResMed's CEO. "We continue to demonstrate the value of our solutions, and earlier today, announced the world's largest study on patient adherence. During the quarter, we drove consumer sleep awareness through a new U.S. media partnership, and sponsored a positive clinical study showing that non-invasive ventilation significantly reduces the risk of re-hospitalization and death for COPD."