ATLANTA – HME retailers looking for innovative products that cross over multiple HME categories may wish to visit Mediflow's Water Pillow exhibit (Booth #1241) at Medtrade East 2021. A clinical study at The Johns Hopkins University School of Medicine found that Mediflow's Waterbase Technology improved users' quality of sleep and reduced neck pain.
With headquarters in Toronto, Canada and Wheeling, Illinois, Mediflow has firmly established itself at pharmacies, HME retailers, clinics, and hospitals—including the Mayo Clinic.

"It's been a while since Mediflow exhibited at Medtrade in the early 2000s," said York Schwab, associate show director, Medtrade. "They are well established, but they felt it was time to expand their reach a bit more by getting back to the Expo floor. We are proud to welcome them back."
"With more than 10,000 five-star reviews from thrilled customers and over 7 million pillows sold, Mediflow is proud and excited to showcase a new, exclusive, and high-end Elite product line of Water Pillows at Medtrade East," says Errol Potok, sales manager, North America. "The Mediflow Elite collection is an exclusive line of water pillows, only sold through approved retailers and features Mediflow's clinically proven water-based technology and premium materials and finishes."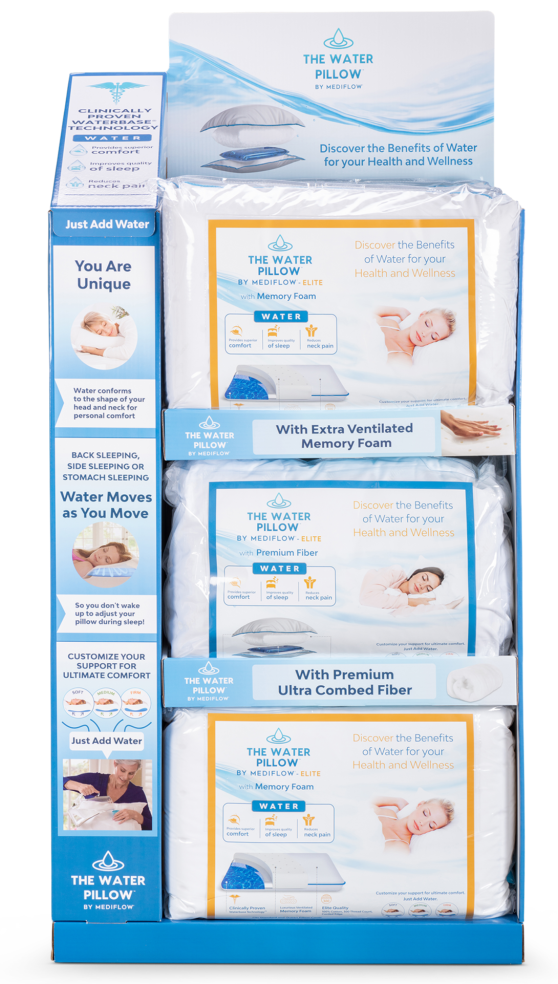 Mediflow's Water Pillows fall under the traditional HME categories for sleep such as mattress accessories, pillows and cushions, sleep aids, and sleep apnea accessories. "They fall into the aids to daily living and pain management categories," adds Potok, "because they offer convenience and support for daily living needs and aid in neck pain reduction, shoulder tension, and headaches."
The Water Pillow by Mediflow – Elite Product line will be on display at Booth #1241. Attendees can stop by to test out the Elite Memory Foam and Elite Fiber Water Pillow. HME providers who decide to carry Mediflow's products can use a retail display stand (pictured) that highlights the features and benefits of the water pillow.
"The displays are pre-assembled and stocked with a bright, durable, and engaging design," Potok explains. "When it comes to pillows, we are not the same old same old. We solve the pain points that HME customers have. Sixty percent of customers have the pain points that include neck pain, headaches, and a solution to better sleep."
Product highlights:
• sold at leading pharmacies, HME providers, clinics, hospitals (Mayo Clinic);
• more than 7 Million sold, and over 10,000 5 star-reviews;
• provides a solution to better sleep, but also helps with neck pain and headaches; and
• subject of three major clinical studies, including the Johns Hopkins study published in a prestigious peer-review medical journal.