DANA POINT, CA – HME providers looking for enhanced respiratory care management encountered a web-based platform from Somnoware at Medtrade 2023. Founded in 2013, the California-based Somnoware began as a sleep diagnostic workflow platform and later expanded into care management.
The platform is now expanding to offer diagnostic workflow and care management solutions for other disease states, including respiratory disorders such as COPD. Somnoware is expanding its solution to HME providers with the debut of its new Care Management platform.
Launched at Medtrade 2023 in Dallas, the platform aggregates patient therapy data and automates interventions, helping providers streamline the clinical triage process and monitor treatment progress. Medtrade Monday sat down with Andrew Plourde (pictured far right), head of Product and Frank Holman, director of Marketing, to learn more about the company and its offerings.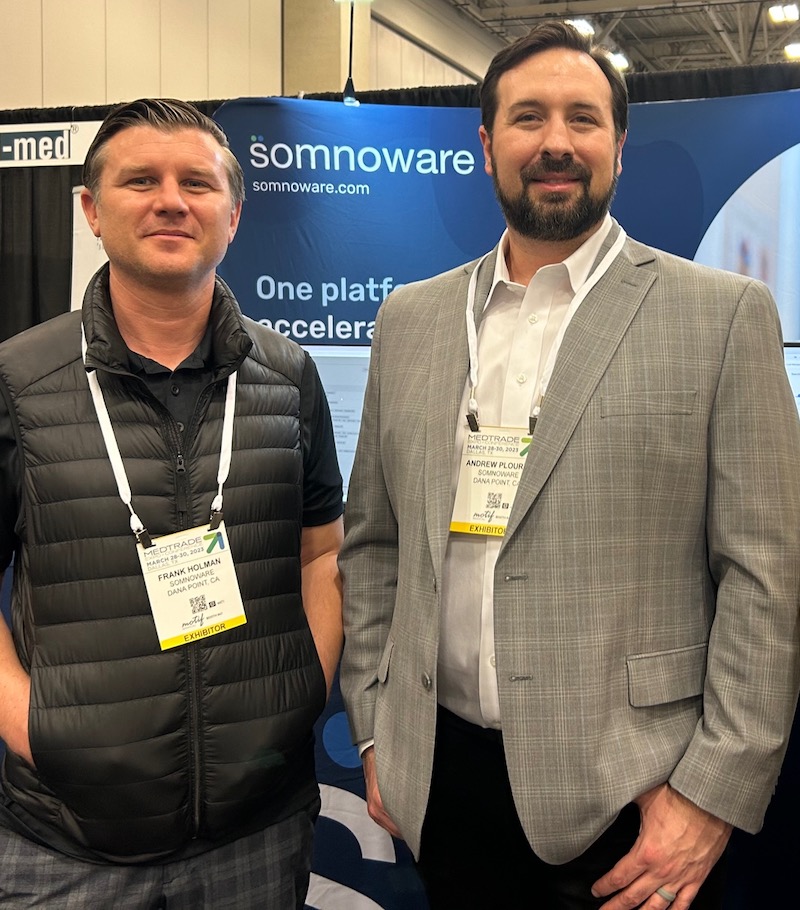 Medtrade Monday: What is the purpose of Somnoware's software?   
Plourde: In addition to aggregating patient therapy data and automating interventions, Somnoware's Care Management platform helps integrated delivery networks, HME providers, and independent diagnostic testing facilities to streamline the clinical triage process and monitor treatment progress.
Medtrade Monday: How can Somnoware improve patient follow-up?
Plourde: The current status quo of patient follow-up to resolve therapy non-adherence can be defined as inefficient and fragmented. Somnoware's Care Management flips that narrative completely. The platform allows clients to administer clinical tracking and follow up of their patients on connected PAP therapies and ventilators and intervene at any point in their therapy.
Care Management connects with patient monitoring and therapy devices and extracts data which is aggregated into the platform. This data can then be used to automate interventions and prioritize clinical triage for support staff. Driven by an intelligent rules engine, patient follow up tasks are prioritized so clinical support teams can easily determine priority work items and easily resolve therapy disruptions and non-adherence issues.
The rules engine not only prioritizes tasks but also automates interventions. The rules engine can trigger live or video calls and automate actions such as SMS, email, questionnaires, and videos to engage patients and improve outcomes. Any educational materials from a user's training library can be sent to patients.
Medtrade Monday: What types of conversations did you have at Medtrade in Dallas?
Holman: Conversations at Medtrade focused on solutions for HME providers to improve patient therapy adherence. Providers spoke with us about their challenges tracking patient therapy adherence and maintaining adherence requirements. They shared their difficulty standardizing patient follow up, and coordinating clinical support staff processes. They talked about missed revenue opportunities as a result of fragmented procedures.
Attendees were genuinely interested in solutions to these challenges. You could see it in their eyes. They not only need solutions to improve patient care but also solutions that improve operations, reduce costs, and drive revenue opportunities. Somnoware's Care Management breaks down the barriers of an industry-wide challenge in managing adherence. Throughout demonstrations of the product, attendees clearly grasped the value of standardizing follow-up and prioritizing outreach for patients struggling with therapy.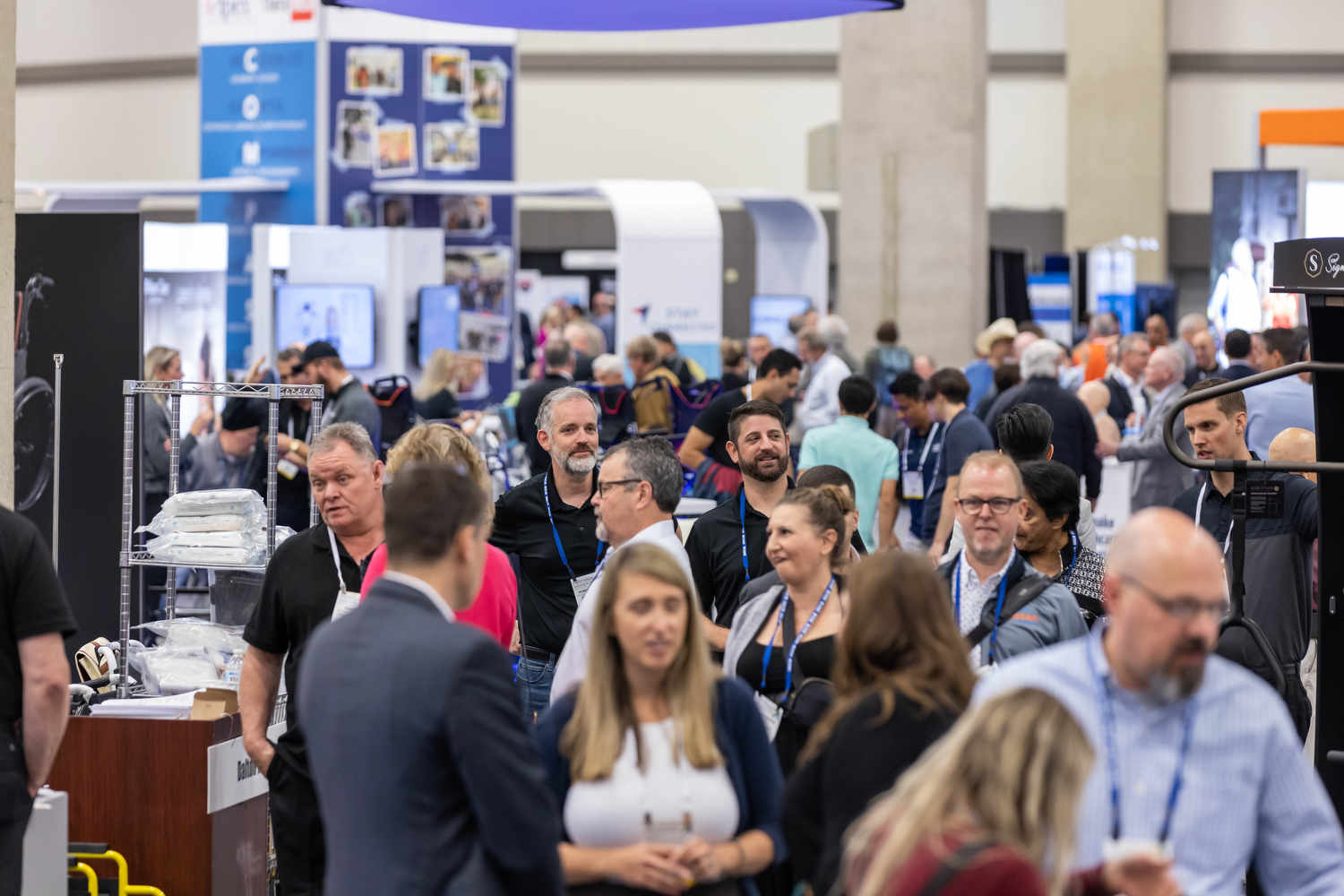 Medtrade Monday: What did Medtrade attendees like the most about the software?
Plourde: Care Management removes the guesswork. Realistically, clinical support staff can determine which patients to follow up with and resolve issues with a few clicks, and you're on to the next patient. There is no searching, manual data review, maintaining spreadsheets or logging into multiple applications. Everything needed for clinical triage is served in one place. The platform conforms to your needs and prompts users on which patients need assistance, when they need it, and what materials or education would best serve the patient.
Medtrade Monday: What types of features come with the platform?
Holman: The release of the platform comes packed with new features. Care Management connects with popular predictive dialers, helping to improve operational efficiency, reduce clinical support staff idle time, boost productivity, and standardize clinical approaches for repeating problems. Patient record tags can be applied automatically and/or added by users manually to further refine the patient experience and sensitivity of support interactions. Detailed reporting and dashboards provide performance metrics for a complete view of results.
Plourde: Care Management makes it easier for clinical support staff to do their job. All they need to do is login and click 'Get my task.' That's it. The platform is designed to conform to your specific clinical directives. Clients can make their own rules, and our solution helps automate, organize, and direct help where it's needed most. Onboarding staff is made much easier with a solution that clearly identifies where they need to focus and offers recommendations to solve the issue.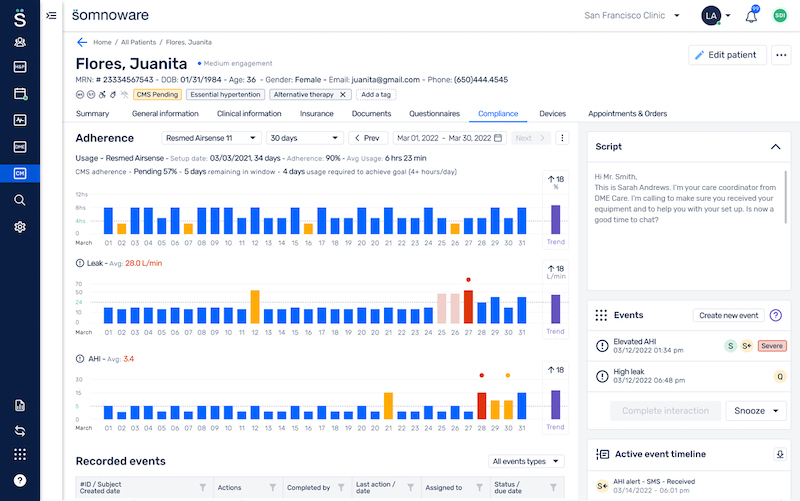 Medtrade Monday: What markers are tracked by Care Management?
Holman: Care Management tracks AHI, leak, and utilization, helping users draw conclusions and target interventions that improve both adherence rates and patient health. Patient populations can be analyzed based on data collected from the ordering doctor, diagnostic testing results, in-home medical devices, and changes in the patient's health over time. Detailed reports of patient interactions can be automatically sent to electronic health record systems allowing referring providers easy access to status updates and notifications for achieving therapy goals.
Care Management also provides insight into staff performance metrics to identify trends and maximize team effort. Care Management is designed so that no patient is left behind. By making the clinical triage process easy from start to finish, patients can improve adherence and get the life-altering treatment they need.
Medtrade Monday: Why is CPAP compliance such an important issue?
Holman: Improving patient health by increasing adherence and reducing health-related issues from untreated sleep apnea is more important than ever. Adherence is also an essential part of maximizing patient retention and DME revenue. Using Somnoware's Care Management, DMEs can monitor adherence, standardize follow up, and automate patient interventions to improve patient care and distinguish themselves as a high-performing partner to attract more referrals.
Medtrade Monday: What is your level of optimism about the sleep medicine world these days?
Plourde: Sleep disorder awareness is continuing to grow and it is at an all-time high. More testing devices are available, including disposables and low cost HSATs with improved technology, reducing barriers to testing. Treatments including masks and therapy devices are continuing to evolve and are only getting better. The future in sleep medicine is bright and we're looking forward to helping serve a greater portion of patients with sleep apnea. We'll be at Medtrade in 2024.