ATLANTA – In the wake of a relatively recent acquisition, Medtrade East attendees who are used to seeing 3B Medical Inc should instead look for the React Health booth when the show convenes Oct. 24-26, 2022 at the Georgia World Congress Center in Atlanta. An additional purchase of Ventec Life Systems means that React Health will also be showing off the VOCSN V+ Pro Ventilator among its offerings.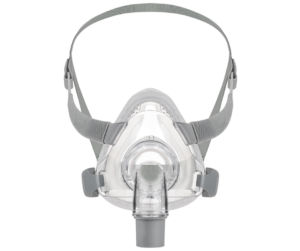 The Winter Haven, Fla.-based company is also launching its "Get To Know Rio" Mask Campaign. The campaign is designed to provide an easy way to learn more about the Rio II Nasal Pillows Mask. Just 2.3 ounces with the headgear, and supplied in an all-sizes fit pack, company officials are predicting the Rio II Nasal Pillows Mask will be a welcome addition for patients.
Prior to Medtrade East, prospective HME providers can learn more about the Rio campaign by clicking here  to receive a box of sample masks and a Zoom Rio II Consultation from clinical account specialists. In addition to the Rio, the company is touting its Siesta Full Face Mask as a great option for DreamWear Full Face Mask and Amara Full Face Mask patients.
The Siesta features:
• no forehead brace which allows for increased line of sight, even with glasses on;
• self-adjusting ergonomic cushion design for superior seal;
• padded support arms to minimize irritation and marks around cheekbones and eyes;
• quick release clips for simple attachment and removal of mask; and
• an easy change cushion cup that snaps into place to allow for ease of removal and cleaning.
"The category of respiratory and sleep remains strong and Medtrade East attendees should pay a visit to Booth #1056 when the show takes place next month," says York Schwab, show director. "Particularly for sleep, popular media has spread awareness about the hazards of clinically poor sleep. It means that more people, and increasingly younger patients, are seeking out sleep solutions."