TRENTON, NJ – In the wake of a fatal train crash last September in Hoboken, NJ, New Jersey Transit officials took 11 engineers and conductors off duty (temporarily) as part of a new program to assess fatigue-related conditions.
According to reports from NY1 and elsewhere, the train's engineer from the Hoboken crash was diagnosed with sleep apnea after the accident. "Investigators say he was going twice the speed limit when it entered the station," wrote NY1. "The collision left one person dead and more than 100 people were injured."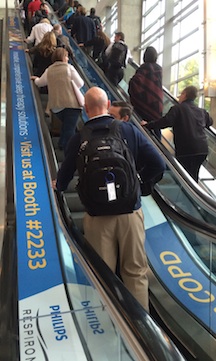 New Jersey Transit officials say any engineer or conductor who shows signs of fatigue will be removed until they can prove they've controlled or corrected the condition. Under previous guidelines, engineers with sleep apnea were allowed to keep working as long as they were being treated.
Philips Opens New Free-Standing Distribution Center
EAST HUNTINGDON, PA – A 260,000-sq-ft distribution center opened last week under the banner of Philips Sleep & Respiratory Care. "Nine months ago, this was a dirt pile," said Dave Butler, global operations and supply chain leader, in a report from TribLive. "It was a barren piece of property. In nine short months, we went from a dirt pile with nothing on it to a fully operational, 260,000-square-foot facility."
Philips' $2.6 million purchase was the Westmoreland County Industrial Development Corp.'s largest sale, one that director Jason Rigone hopes will snowball into other development at the West moreland Distribution Park North in East Huntingdon and neighboring space off Technology Drive.
The warehouse reportedly has enough space for Philips to consolidate functions at leased buildings elsewhere in Westmoreland County and maintain its staffing level of about 250 employees. "Employees fill customer orders and prepare them for shipping there, with a capacity of 850,000 deliveries annually," writes Renatta Signorini. "On an average day, the center processes 3,500 shipments."