Surge Predicted For Oxygen Equipment Market
NEW YORK – A study from Fact.MR predicts that the global oxygen therapy equipment market will reach $3.6 Billion in 2022, registering 8% compound annual growth rate (CAGR) during the forecast period (2022-2027). Demand in the market is predicted to surge on the back of growing use of advanced oxygen source equipment, surpassing $5.2 billion by 2027.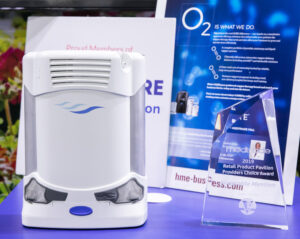 Demand for oxygen therapy equipment is anticipated to grow due to rising frequency of respiratory illnesses, the high prevalence of tobacco usage, demand for home-based oxygen therapy, and technical improvements in the healthcare sector. Further, rising incidences of chronic respiratory diseases and demand for home healthcare will boost the market.
Acceptance of on-demand and continuous portable oxygen concentrators (POC) in a variety of applications such as emergency medicine is increasing. Subsequently, consumer desire for portable technology, and the clinical necessity for mobility support for elderly population will fuel demand.
Golden's GP164 BuzzAbout Joins Product Family
OLD FORGE, PA – Golden Technologies continues to launch new products in the mobility division. The introduction of two new power wheelchair designs with added comfort and performance features will help retailers drive cash sales.
"We invested heavily in new and exciting mobility products to provide our retailers with high-performance products designed for comfort and style to increase their retail cash sales," said Rich Golden, CEO of Golden Technologies. "We continually strive to be at the forefront of innovation and design with all our products.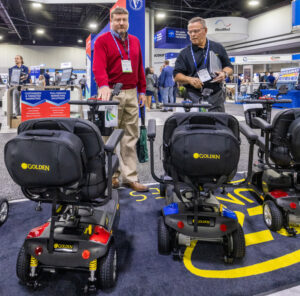 "The GP164 BuzzAbout power wheelchair ushers in the next level of power wheelchair options across the home health care industry and has been enthusiastically received by our retailers for both functionality and design," Golden continued. "The new entry-level GP161 LiteRider Envy LT rounds out the line-up and continues to mean quality and value. The combination of these three power wheelchairs on our retailer's showroom floor gives them a powerful good, better, best retail offering."
The BuzzAbout has a captain's seat with contoured support and higher back for longer seating tolerance and comfort. It features motion sensing LED running lights on the footplate and rear handle activated when the controller is moved. It also features a 300 lb. weight capacity, 2-22 AH batteries standard, convenient offboard charging, and easy disassembly for transport.
The new LiteRider Envy LT power wheelchair has a silver powder-coated frame and tubular design that is unique to the Golden LiteRider family. The Envy LT features a compact controller and well-styled joystick designed to make everyday tasks easier such as driving up to a table or maneuvering through a doorway.
ResMed Announces First Quarter Fiscal Year Results
SAN DIEGO – ResMed Inc. results for its quarter ended September 30, 2022 saw revenue up by 5% to $950.3 million. Income from operations increased 5% with non-GAAP operating profit up 4%.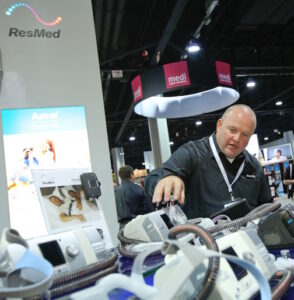 "Our first quarter fiscal year 2023 results demonstrate strong sales growth in the Americas and solid overall performance for our businesses," said Mick Farrell, ResMed's CEO via press release. "Our global ResMed team continues to power through the dynamic supply chain environment to increase production volumes and deliver more products and software solutions into the hands of people who need them.
"During the quarter we saw strong customer uptake of our reengineered AirSense 10 Card-to-Cloud device," Farrell continued. "We also continued to increase our access to semiconductor communications chips, allowing us to produce more of our industry-leading, 100%-connectable platforms. Looking ahead, we remain focused on delivering lifesaving therapy solutions and driving accelerated adoption of digital health in sleep apnea, respiratory care, and out-of-hospital care. I am confident in our growth strategy and our ability to accelerate toward our goal of improving 250 million lives in 2025."