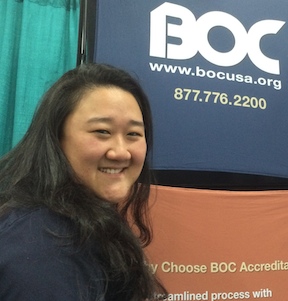 ATLANTA – A 6-hour workshop on day one of Medtrade 2016 aims to help providers gain a crucial competitive advantage. In An Introduction to the Certified Durable Medical Equipment Specialist (CDME), speakers Jeff Hedges, CDME, and Michelle Yoon (pictured, left), credentialing manager at the Board of Certification/Accreditation (BOC) will prepare providers to attain their CDME distinction.
"The Durable Medical Equipment Specialist (CDME) certification gives your DME businesses a competitive edge over businesses without a certified DME Specialist," says Carrie Green (pictured, right), marketing manager at Owings Mills, Md-based BOC. "Having a CDME on staff provides your customers with a more personal and informed experience. A CDME can assist customers with product selection and proper use of the products selected."
The BOC Workshop is scheduled for Monday, Oct 31, 2016, from 9:00 a.m. – 3:00 p.m., in Room C203 at the Georgia World Congress Center in Atlanta. Medtrade takes place Oct 31-Nov 3, 2016.
For those who wish to earn the CDME, Green says it is "very attainable." The prerequisites for taking the CDME exam are a high school diploma and 500 hours (approximately 13 weeks of full-time work) of documented experience at a DME facility. "Anyone interested in learning more about the CDME certification can visit the CDME page on our website, http://www.bocusa.org/cdme, or attend one of the workshops we hold at Medtrade and Medtrade Spring," adds Green.
• View list of Oct 31 Events Here
• View Workshop Pricing Here
• Click Here to Register for the BOC Workshop
• Click Here to register for Medtrade 2016.
• Go to medtrade.com for additional information about Medtrade.
• Copy and paste (or click) the link below to register for Medtrade:
https://registration.experientevent.com/showmth161/default.aspx?flowcode=attendee&source=MTMONDAY