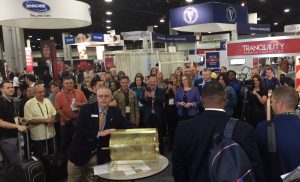 ATLANTA – Medtrade ended with Kevin Gaffney, group show director, cranking the handle of a golden tumbler filled with entry cards in the show's first-ever $5,000 giveaway. The new reception and cash giveaway injected a shot of energy to the final day of Medtrade, a packed three-day event that featured knowledge from top experts and products from hundreds of exhibitors.
It's hard to know exactly how many people stuck around specifically for the cash giveaway and reception, but it's clear that more than a few exhibitors benefited from the new format. "We were getting qualified leads an hour before the show floor was scheduled to close, which is unusual," confirmed Kolby Wegener, MBA, PMC-II, marketing specialist, Mediware Information Systems, Lenexa, Kansas. "People wanted full-on demos one hour before closing. The bar and the cash giveaway helped."
Industry eyes now shift to Medtrade Spring, scheduled for March 2018, but first; check out reactions from the following exhibitors at last week's show. If you missed these (and any other exhibitors), feel free to call them for more information.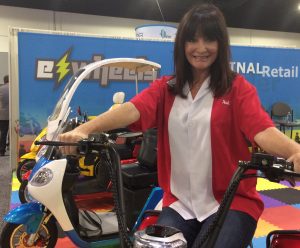 "The show has been amazing. We have had so many new and/or potential dealers. In year's past, we saw many existing customers, but I was not expecting to see so many new people. They were coming out of the woodwork, and it was not just small mom and pops. As for the two-day show floor format, that has been great." — Andi Barness, national director of Sales and Marketing, EWheels
"Day one was very good. It went amazingly well for us. It helps to exhibit for a few years so people recognize you." — Ariel Osmond, Account Sales, Millenial Medical
"I believe in the show. I believe in the metrics of the show. It's the quality, not the quantity." — Ron Resnick, Blue Chip Medical Products Inc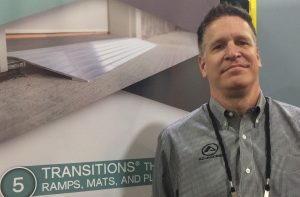 "Day one of Medtrade was incredible. It's the quality of the discussions, and not the quantity. People here are serious buyers. The casual buyer is just going to google. The serious buyer comes here to put hands on the product." — Judson Branch, EZ-ACCESS
"I've been extremely busy. On day one it was 3:00 before I finally had lunch. Day two has been steady." — Beau Alford, executive account manager, Cure Medical
"We got more leads by noon of day one at Medtrade 2017 than we had in three days at last year's show. It's been busy, and better than we anticipated." — Bill Wood, RRT, key accounts manager, Nonin Medical Inc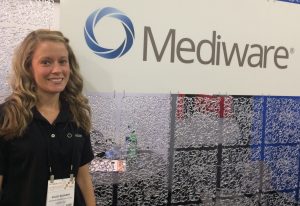 "I love how Medtrade was reorganized. Making it shorter was better for everybody. We were getting qualified leads an hour before the show floor was scheduled to close, which is unusual. People wanted full-on demos one hour before closing. The bar and the cash giveaway helped…There has been a lot of energy from the first day. Our meeting space has been full the whole time, and people were in a buying mode. They were more serious and committed. They are realizing that there are better ways to do things as margins get slimmer. New strategies have been a win and kept people here longer. We also sponsored the Audit Happy Hour and collaborated with The MED Group, and this type of sponsorship is helping the industry." — Kolby Wegener, MBA, PMC-II, marketing specialist, Mediware Information Systems

"We scanned more than 80 badges yesterday, and that's been better than other trade shows. It was literally non-stop with attendees who were very interested in our products." — Luis Rodriguez-Parker, Allegheny Answering Service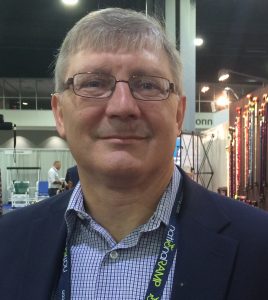 "I come to Medtrade for inspiration, and I'm always looking for that item I can add. I get inspired, and I like the face-to-face interaction with manufacturers. We have a great relationship with Golden Technologies. We step into the Harvy Surgical Supplies booth and they recognize us. Those relationships with manufacturers can be the difference between success and failure—or even just a chance to do some good. For example, Golden gave a lift chair to an ALS patient who I knew last year. They were simply trying to help someone in the community." — Tom Tuttle, owner, Family Medical Supply, Wheeling, WV
"Medtrade has been really good. We were discouraged at first, but it came around. We booked a lot of business—and I mean actual orders with people saying, 'We need 50 of these and 100 of those.' I bet we booked a couple hundred thousand in business." — Todd Durham, president/founder, Cryogenic Inventory Solutions (CIS)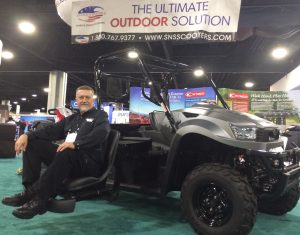 "We had a huge crowd with a lot of traffic. It's been excellent. This is my first Medtrade, and it's all new to me. I could not be happier with the event." — Bruce Ramsey (pictured, right), president, Sales and Marketing, KYMCO USA Inc (makers of Stars N Stripes Scooters)
"It's been a good show, and we are satisfied. We've seen three themes here: 1) retail; 2) innovation and the need for quality; and 3) the increasing role of software. We're very glad to be at Medtrade and support the providers. We've had a steady flow of people to the booth and sincere interactions." — Edward Armstrong, vice president, Product and Channel Marketing, Invacare, Elyria, Ohio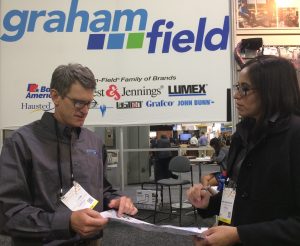 "I was able to engage customers this year at Medtrade. The people who are attending are more engaged. I have had deeper conversations this year with customers than in past years. Retail items are of particular interest." — Ryan Howe, AMS, product manager, and Maria Garcia Silva, MBA, AMS, international marketing manager (pictured, right), GF Health Products Inc (Graham-Field), Atlanta
"Medtrade has been better than expected. There have been a bunch of DMEs looking for our rehab and therapy supplies. They see us as a one-stop shop." — Matt Sommers, business development manager, Fabrication Enterprises Inc
"The show has been good. Between the networking, education, and show floor, you need two days to do the show. I'm glad they shortened it. I come to Medtrade to find new products and be the first on the block to show doctors the latest and the greatest." — Rob Brant, co-owner, Local CPAP, Atlanta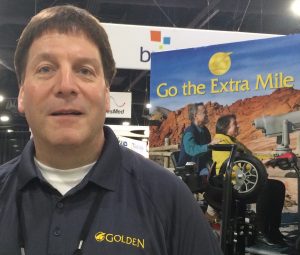 "The show has been fantastic—busy and consistent. Providers are looking to increase their bottom line through service. We have service [repair] classes where I dispel some myths. It gives providers optimism because they don't have to subcontract for repairs. Providers can grow tremendously." — Doug Platt, senior technician, Mobility, Golden Technologies
"I would have gone home early if it would not have been for the cash giveaway. I'm still shaking." — Sandra Chisum, Heritage Home Medical, Wichita Falls, Texas, after winning the $5,000 prize