ATLANTA – HME leaders from across the country are getting ready to share expertise, get a first-hand look at new products, and collaborate on policy priorities and best practices to help us better serve our patients and communities – all at our industry's premier trade show: Medtrade East.
The Medtrade East team, along with educational session and workshop presenters, and industry-leading companies who are exhibiting, have worked together to make our last biannual show a great one. We look forward to seeing you in and around the Convention Center and show floor, and hope you'll take advantage of these opportunities to connect with the AAHomecare team.
Visit AAHomecare on the show floor (Booth #615) and take note of these related sessions
Monday, Oct. 24 – 3:30-4:00pm – Latest Intelligence on the Federal Regulatory Front – Kim Brummett (Vice President, Regulatory Affairs) with Cara Bachenheimer (Brown & Fortunato and AAH General Counsel).  Conference Pass registration required.  A402-A403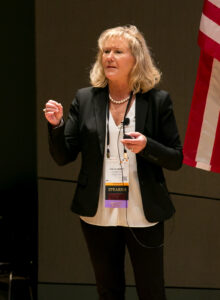 Monday, Oct. 24 – 3:30-4:00pm – Educating Payers on the Value of HME – Laura Williard (Vice President, Payer Relations) and David Chandler (Senior Director, Payer Relations). Conference Pass registration required.  A315-A316
Monday, Oct. 24 – 5:00-6:15pm – Ask the Experts (scroll to find) – Kim Brummett and Laura Williard are among the experts presenting at this combination networking and Q&A session – Conference Pass registration required.
Tuesday, Oct. 25 – 10:00-11:30am – AAHomecare Update and Van Miller Homecare Champion Presentation – AAHomecare policy experts will discuss legislative priorities, regulatory developments, and payer relations initiatives. Panel discussion will be moderated by David Kopf, editor of HME Business, and offer the HME community the chance to ask questions and share their concerns with AAHomecare leaders.  The 2022 Van G. Miller Homecare Champion will also be announced at the update.  Open to all attendees.  Sidney Marcus Auditorium
Tuesday, Oct. 25 – noon-5:00pm – State Straight Talk sessions highlighting advocacy work going on across the country! AAHomecare's Laura Williard and David Chandler and state association leaders lead discussion on the initiatives underway in your state. Sessions will be held adjacent to AAHomecare's booth (#615).  See time slots for specific states/regions.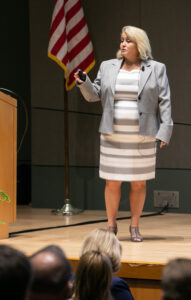 Tuesday, Oct. 25 – 4:00-5:00pm – AAHomecare is proud to once again host a bar for the Welcome to Atlanta Reception on the show floor.  Drop by for a drink and to say hello at booth 615
Tuesday, Oct. 25 – 5:30-7:00pm – Stand Up for Homecare Reception – on the roof at Ventanas in Atlanta – don't miss our last Stand Up celebration in Atlanta!  More details further below.  Tickets are available at the door.
Wednesday, Oct. 26 – 10:15-11:45am – Medicare Advantage –  Laura Williard with Jeffrey Baird (Brown & Fortunato).  Conference Pass registration required.  A313-A314
There's still time to be a part of the Medtrade East experience!  Register with this link to get an additional $20 off Conference Pass for AAHomecare members and book your hotel here.