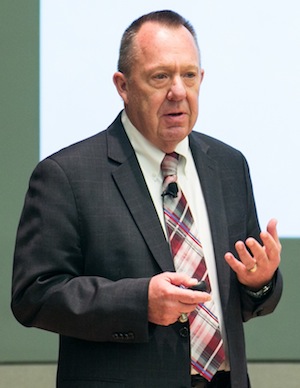 WASHINGTON, DC – Last week, AAHomecare submitted a letter to the Office of General Counsel at HHS expressing concern about the 2017 Medicare fee schedule for stationary oxygen, which has resulted in rates for rural and other non-bid area suppliers that are lower than the competitive bidding rates for this product category than the rates in many CBAs.
These new rates stem from the application of a 2006 budget neutrality offset balancing increased utilization for oxygen generating portable equipment (OPGE) with lower reimbursement for stationary equipment.
In essence, CMS is cutting reimbursement rates twice for this product when the 2006 offset is combined with rate-setting data from the bidding program. We're disappointed – but sadly, not surprised – that CMS is once again trying to find a way to reimburse Medicare providers at the lowest rate possible, rather than employing a common-sense and sustainable pricing approach.
Our rationale for challenging these rates and asking for a recalculation based on the methodology for rural/non-bid rates set forth in 42 CFR §414.210 are detailed in our letter.
You can view the letter and a comparison of the new rates vs. CBA rates here.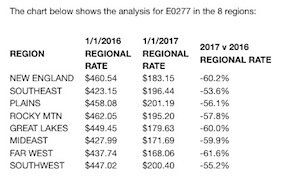 January 2017 Pricing Analysis
WASHINGTON, DC – AAHomecare has completed the pricing analysis of the new fee schedule that will take effect January 1, 2017. AAHomecare reviewed the top 25 HCPCS codes that are reflective of the industry and compared the rates against 2016 and 2015 fee schedules.
The analysis is segmented by the 8 geographical regions, and prices used are the average of all the states within each region. AAHomecare found that overall, there will be a 36.8% decrease in reimbursement in 2017 compared to this year's fee schedule for the top 25 items. Our analysis shows that E0277 (low air loss mattress) will experience the greatest price reduction in non-rural areas, averaging about 58% compared to this year's reimbursement rate.