The American Association for Homecare (AAHomecare) today released an analysis of the Office of Medicare Hearing and Appeals (OMHA) appeals backlog, using data available on the OMHA website. The analysis has uncovered that, in spite of reports from OMHA indicating improvement, in the first half of 2015, the wait time has increased by nearly 25 percent, with June posting an average processing time of 714.9 days.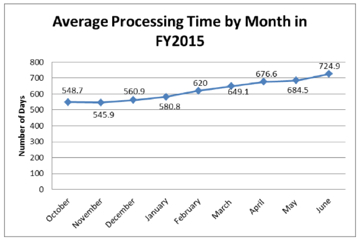 "It is painfully obvious that this system is broken, but no measures are being taken to fix the root of the problem," said Kim Brummett, vice president of regulatory affairs at AAHomecare. "DMEPOS claims are different, and need to be treated as such. Home medical equipment providers are dealing with the same patient and same service/item on an ongoing basis over a period of time. When the first claim is denied, all of the subsequent claims for the same patient and service are denied. However, when the previous claim is overturned, it does not mean that any other claims for the same patient and same service will be paid/overturned at any level. This cycle traps a large volume of claims in a system that cannot handle them properly."
Deadline to Nominate a Homecare Champion is Sept 9
WASHINGTON, DC – Do you know someone who is making a significant impact on the HME community this year? Someone who goes above and beyond to give time and resources, building relationships with important lawmakers, building up initiatives that support the industry? An individual who strives to make an impact on difficult regulations and influence positive legislation?
The Homecare Champion Award is the opportunity to honor and thank someone in our community for their hard work and dedication. It's a chance to recognize this person in front of our peers, and share all that they have done to make our businesses and livelihoods successful. If you have someone in mind that fits the bill, nominate them today.
And don't forget to register for the Stand Up for Homecare fundraising reception, taking place at Medtrade on Tuesday, October 27. Stand Up for Homecare is the can't-miss networking event of the year, where we honor new the Homecare Champions and raise funds for consumer-related initiatives and groups.