WASHINGTON, DC – HHS opened the $20 billion Phase 3 General Distribution under the Provider Relief Fund (PRF) on Monday, October 5th.  Applications for Phase 3 are available to health care providers, including DMEPOS companies that have already received or rejected payments from the Phase 1 & 2 General Distribution. This new funding stream extends eligibility to previously ineligible providers, such as behavioral health providers and providers that started servicing in 2020.
The application process is similar to the Phase 1 & 2 applications, except HHS will be collecting more information on provider's revenue and expenses from patient care. This is an opportunity for providers to receive payment in addition to the 2% annual net patient revenue. However, Phase 3 will prioritize payments to providers who have not received 2% of their annual net patient revenue through Phase 1 & 2. Remaining funds will be dispersed based on information submitted by applicants, and therefore, additional payment amounts above the 2% net patient revenue will be determined after the application deadline on November 6, 2020.
Applications are submitted at the Application and Attestation Portal. HHS recommends providers submit the application as soon as possible to speed up the calculation and disbursement of funds. For specific questions on your application, AAHomecare recommends contacting the Provider Support Line: (866) 569-3522. HHS is also hosting a webinar on this relief opportunity on Thursday, October 15th at 3PM (Eastern). You can register for the webinar here. 
Applicants should thoroughly review the Phase 3 General Distribution Terms and Conditions and continue to monitor the PRF website for new information.  HHS has also developed extensive FAQs for this relief round  — also available in PDF form (see pages 40-48 for Phase 3 info).
There are several requirements associated with accepting payments from the PRF. Below are some matters recipients should be aware of, including:
1.    ATTESTATION
All recipients are required to accept or reject any payment from the PRF within 90 days of payment. Providers can attest or reject the payment at the Application and Attestation Portal. If no action is taken, HHS will consider this as the recipient accepting the Terms and Conditions and will publish the provider's name and payment amount on the Provider Relief Fund public list on the CDC's website. As of last week, HHS distributed more than $105 billion in payments to 530,916 providers through the PRF. Of that, 346,420 providers attested to more than $88 billion of the payments so far.
2.    POST-PAYMENT REPORTING REQUIREMENTS
As shared in the Sept. 23 Insider, any recipient who received $10,000 or more in aggregate from the PRF are subject to reporting requirements. The portal to submit the report will be open on January 15, 2021. Recipients will need to submit information on lost revenue, expenses due to COVID-19, and other financial and non-financial information.  More information on the reporting requirements and data elements can be found here. 
3.    AUDITS
All recipients are potentially subject to audits. The HHS Office of Inspector General already announced in May that they will be auditing $50 billion in payments made through the PRF. In addition, as part of the post-payment reporting requirement, any provider that received $750,000 or more in aggregate from the PRF will be subject to the Single Audit requirement. AAHomecare recommends recipients to maintain proper records and documentation.
COVID-19 Relief Measures Extended to Jan. 21
WASHINGTON, DC – HHS Secretary Alex Azar announced that the COVID-19 Public Health Emergency (PHE) declaration would be renewed for an additional 90-day term, effective Oct. 23.  The extension keeps significant measures of COVID-19 relief for our industry in effect until at least Jan. 21, 2021, including:
Medicare 75/25 blended rate for non-rural/non-bid suppliers (according to our analysis, these areas are receiving rate increases of about 30% overall).
Medicare 50/50 blended rate for rural suppliers.
NCD/LCD flexibility allowing expanded use of home-based respiratory products/therapy, as well as infusion and anticoagulation devices.
Waiver of face-to-face requirements for many products; allows use of telehealth for PMD F2F requirement.
2% increase in Medicaid FMAP match will remain in effect though the end of the quarter the PHE expires, so this relief for state Medicaid agencies will run through at least March 2021.
State Medicaid waivers and flexibilities tied to the PHE.
TRICARE reimbursement increases tied to the Medicare rate relief.
AAHomecare and healthcare providers everywhere appreciate Secretary Azar sharing the announcement well ahead of the expiration of the previous declaration, set for Oct. 22.  As we noted in the Aug. 26 Insider, the Medicaid and CHIP Payment and Access Commission has urged the Administration to give even greater advance notice on PHE expiration dates.
AAHomecare Urges Respiratory Panel to Develop Clear NIV Coverage Criteria
WASHINGTON, DC – AAHomecare President & CEO Tom Ryan participated in a technical expert panel on Non-Invasive Ventilator (NIV) use convened by the American College of Chest Physicians (CHEST).  Ryan shared a presentation titled Home Use of Noninvasive Pressure Ventilation in Patients with CRF Consequent to COPD, which focused on the need to develop clear coverage criteria and Critical Data Elements for NIV, as recommended by AAHomecare and leading respiratory stakeholders. AAHomecare vice president of regulatory affairs Kim Brummett also took part in the two-day weekend panel session.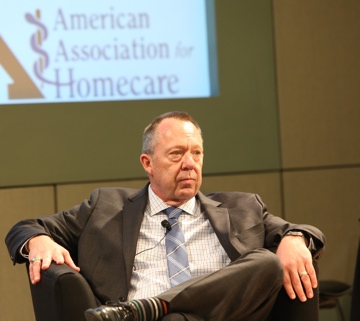 CHEST, along with American Thoracic Society, the American Association for Respiratory Care, and the American Academy of Sleep Medicine, are looking to develop a consensus statement and NCD recommendations on Bi-Level devices, as well as NIV.
Ryan pointed out that AAHomecare's membership accounts for approximately 80% of the Medicare respiratory market and asserted that the Association should have the opportunity to review any recommendations before they are presented to the Coverage and Analysis Group at CMS.
AAHomecare's presentation also highlighted the critical work of respiratory therapists in the home and reiterated reasons why NIV needs to remain outside of the Medicare bidding program.
See the accompanying presentation in PowerPoint or PDF format.