WASHINGTON, DC – Last week, the American Association of Respiratory Care, the American College of Chest Physicians and the National Association for Medical Direction of Respiratory Care submitted a reconsideration of the current Medicare National Coverage Determination for home ventilators, including bi-level devices to CMS.
The request is aimed at establishing specific definitions of chronic respiratory failure, as well as for mechanical ventilators/ventilation and ensuring that objective, consistent and clinically beneficial criteria is used in providing these products for patients.
Their suggested definition of respiratory failure (from page 7 of the report) is the inability of the respiratory system to maintain gas exchange within normal limits.
• Oxygenation failure: inability to maintain PaO2 of 60mmHg or greater on room air
• Ventilatory failure: inability to maintain PaCO2 of 45mmHg or below
The groups submitting the request for reconsideration briefed briefed AAHomecare's clinical ventilator work group on their proposal last week; early feedback has been positive.
Julian Husbands, senior vice president, Marketing and Clinical for Apria Healthcare, remarked: "We are pleased with the engagement of pre-eminent pulmonologists to help direct ventilation policy changes in a way that are in alignment with appropriate care of these patients and will help facilitate optimal utilization of this therapy. We are moving in the right direction with these groups to have a clear medical policy to ensure that patients qualify versus the current environment of not knowing whether or not you will be paid for a critical therapy."
Nick Macmillan, a member of AAHomecare's HME/RT council, had this to add: "These leading respiratory and pulmonary groups have prepared an exceptionally thorough position statement addressing a pressing issue affecting patients and clinicians alike, employing sound peer-reviewed clinical evidence and 'real world' experience. Their contention that 'Current reimbursement policy focuses on devices rather than the clinical situation' is indeed welcomed and refreshing."
"We appreciate the spirit of collaboration these groups have shown in sharing their perspectives with us," added AAHomecare's Tom Ryan. "Respiratory providers and patients alike will benefit if these recommendations help shape future policy."
Keeping Up the Fight by Tom Ryan, president and CEO, AAHomecare
WASHINGTON, DC – I know what you're thinking: here's yet another article about the pain and stress the competitive bidding program is causing for patients and providers, how AAHomecare is trying to rein it in, and why we need you to call/write/beg your Senators and Representatives to just do something! I've been reading these articles in one form or another for years, first as a provider and association leader trying to survive the program, and then from my position as president of AAHomecare.
The first Wednesday in Washington published under my watch in September 2013 led off with Rep. Thompson Urges House Members to Support H.R. 1717, and almost every succeeding edition has featured the bidding program in some form or another.
Do you have bidding fatigue? I know that I do.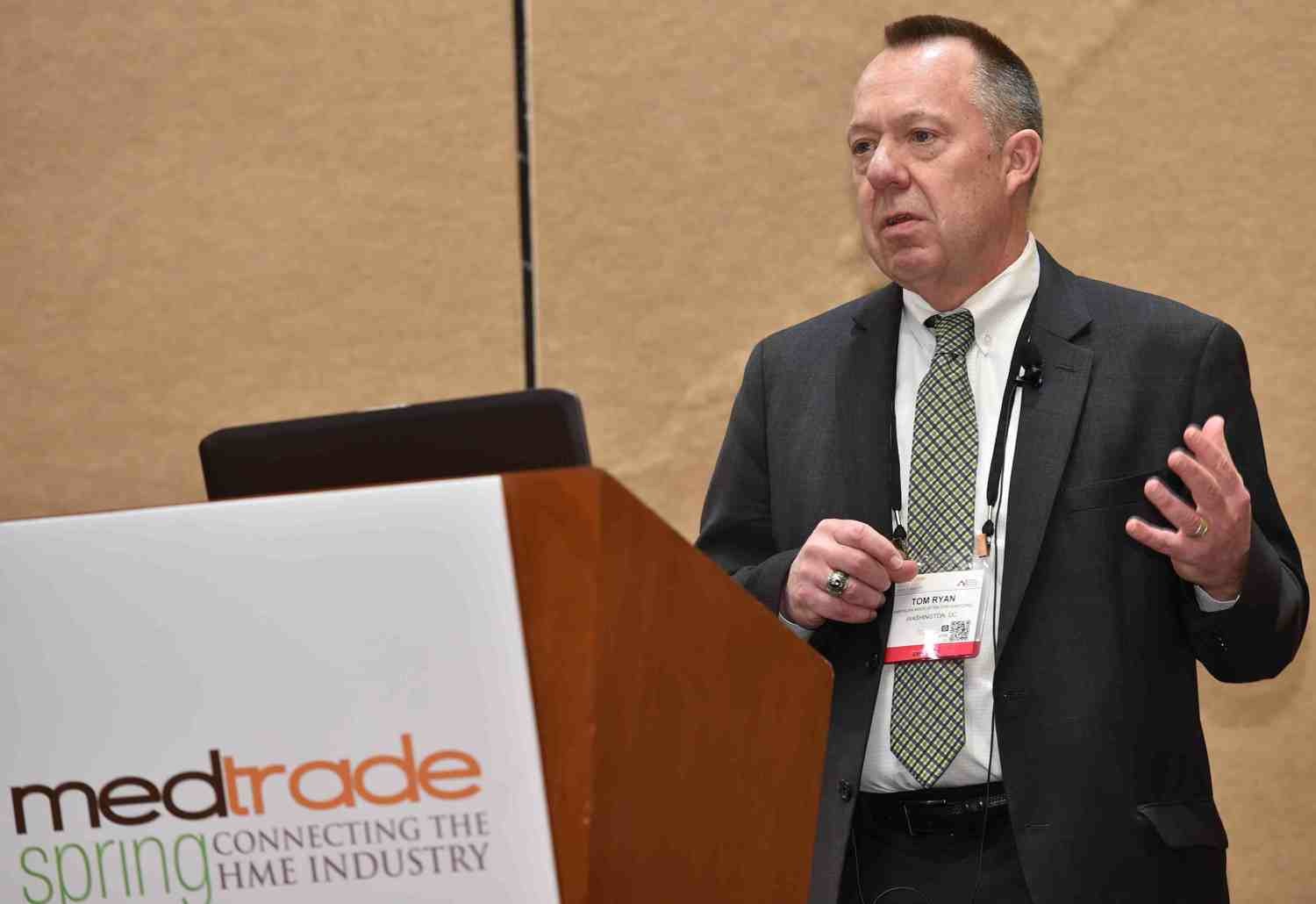 Over the years, AAHomecare has asked the HME community to get behind one legislative proposal after another that would eliminate, replace or improve the bidding program. We've seen some proposals stall in committee, others merit serious consideration, and we've even had some success last year in getting binding bid legislation passed and delaying the application of bidding derived rates for CRT accessories. But even our win on binding bids is slow to bear fruit, as CMS drags its feet on implementing common sense provisions that would keep less serious bidders from helping drive bid rates down to the levels seen in the Round 2 Recompete.
And here we are again, with new legislation that would delay further cuts for rural bidders, require CMS to provide a transparent assessment of the bidding program's effects on patients, and apply a needed fix to the bid ceiling methodology CMS is looking to employ in future bidding rounds. We're again asking for help in getting strong House co-sponsorship when introduced, and we'll again look for you to help generate grassroots support in the coming weeks.
I understand if you're weary of this seemingly unending fight. I know it's hard to keep getting up when you've been knocked down more than a few times. I don't blame you if you're skeptical that we can get a win this time.
But we must keep moving forward. We have to keep fighting.
CMS is not going to make significant changes to this program unless they are forced to (and even, then, as seen with the delayed implementation of binding bids legislation, they are going to drag their feet as much as possible along the way). If you plan to to continue to service Medicare beneficiaries, you're going to see increased downward pricing pressure in future bidding rounds as a result of the program.
And, even if you are reducing your exposure to Medicare reimbursed business, other MCO and private insurance payers are using results from the bidding program in their rate-setting. Your choice here is simple: keep fighting or accept the prospect of more cuts in the future.
Despite all that, there is cause for optimism. Our industry has never had stronger Capitol Hill champions or better relations with staff on key Congressional committees than we do now. HME stakeholders are united in their support for S. 2736, and the grassroots advocacy efforts generated by state and regional associations, by influential organizations like VGM and The MED Group, and by companies large and small have led to greatly increased Congressional awareness and engagement on the bidding issue.
Lastly, I am also encouraged by the way that so many of you have redoubled your involvement in advocacy efforts this year, and that AAHomecare members have remained committed to their support of the Association through membership renewals, companies stepping up their sponsorship levels, and your support for Medtrade and Stand Up for Homecare. Whatever the challenges this industry faces, AAHomecare members continue to stand together as a united force working to secure better public policy for HME providers and patients.
We have come too far to quit now. We need to keep pleading our case, building relationships with our legislators, and fighting with all the energy and enthusiasm we can muster. In my heart, I know that we will get a win for the HME community if we continue to persevere.
The above message appeared in last week's Wednesday in Washington from the American Association for Homecare.