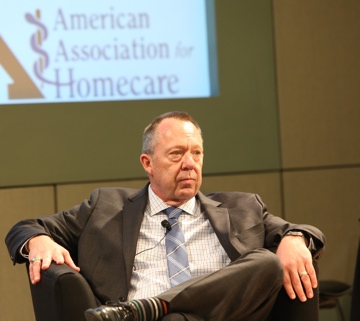 WASHINGTON, DC – With so much social contact happening online, it is more important than ever to make an effort to build personal relationships and connect with people in person—including members of Congress. Now is your chance to have face time with your Senators and Representative in Washington, and urge them to support legislation in favor of providers and patients. An e-mail will not suffice.
 
Join us at the Washington Legislative Conference, May 25-26. The American Association for Homecare is asking all providers to make the Washington Legislative Conference a priority for the future of your business.
We also need our members of Congress to understand what is at stake for the HME community, and we need members of that community to help explain it to them. This is best done in person.
AAHomecare will work with you to schedule the right appointments. Once you get to Washington, DC, you'll have access to home care's top experts who will help you understand the details of the key issues during a day-long series of seminars. They will also provide tips on the best ways to establish working relationships with your members of Congress, give you handouts to leave behind in Hill offices after your appointments, and then follow-up with those offices to reinforce your message.
Never underestimate the power of a face-to-face conversation. Sign-up today for the Washington Legislative Conference.
May 25-26, 2016
Washington Court Hotel
1-800-321-3010
202-628-2100
Online conference registration available here
AAHomecare members $99
non-members $149
Downloadable form to register by mail or fax. See more details on our main conference page.

 Don't delay. If you have made the decision to attend the legislative conference, please complete your registration as soon as possible. While we are able to accommodate even last-minute registrants, you improve your chances of a fuller Capitol Hill meeting schedule and seeing legislators directly if you register early.
Tom Ryan is president and CEO of the American Association for Homecare.