An Office of Inspector General audit found that Medicare improperly paid DMEPOS suppliers an estimated $117 Million over four years for supplies provided to hospice beneficiaries. A November OIG press release reveals that the OIG audit covered $185.7 million in Medicare Part B payments to suppliers for 1.6 million DMEPOS items provided to hospice beneficiaries from Jan 2015 through April 2019 (audit period).
For 121 of 200 sampled DMEPOS items, Medicare improperly paid suppliers for DMEPOS items they provided to hospice beneficiaries. Specifically, for 58 percent of the sampled DMEPOS items billed without the GW modifier (67 of 115 items) and 63 percent of the sampled DMEPOS items billed by suppliers with the GW modifier (54 of 85 items), the items were provided to palliate or manage the beneficiaries' terminal illnesses and related conditions. Medicare pays the hospices for the DMEPOS items provided to the beneficiaries as part of the hospices' per diem payments. These items should have been provided directly by the hospices or under arrangements between the hospices and the suppliers.
According to the OIG release, the improper payments occurred because: 1) the majority of the suppliers were unaware that they had provided DMEPOS items to hospice beneficiaries, 2) the system edit processes that should have prevented the improper payments were not effective or did not exist, and 3) the suppliers inappropriately used the GW modifier. On the basis of sample results, the OIG estimated that Medicare could have saved $116.9 million in payments during the audit period, and beneficiaries could have saved $29.8 million in deductibles and coinsurance that may have been incorrectly collected from them or from someone on their behalf.
Third Quarter Results Show Net Sales Increase At Invacare
ELYRIA, OH – Invacare Corporation results for the quarter ended Sept. 30, 2021 reflected a net sales increase of 5.8% to $224.2 million, and constant currency net sales increased 2.9%. According to an Invacare news release, growth in constant currency net sales was driven by a 17.1% increase in lifestyle products in Europe and 7.1% growth in mobility and seating products in North America.
Gross profit as a percent of net sales was 26.9%, a decrease of 140 basis points and flat compared to 2Q21, with the decline attributable to supply chain-related disruptions resulting in higher freight and material cost, as well as reduced production efficiency. Gross profit increased $0.3 million and benefited from higher net sales and favorable product mix.
Reflecting on the quarter, Matt Monaghan, chairman, president, and CEO, said: "I am proud of our associates who have continued to find creative ways to address the many challenges that impacted our ability to meet the strong demand for our products. We achieved constant currency net sales growth driven by double-digit gains in lifestyle products in Europe, strong growth in mobility & seating products in North America, and a significant rebound in Asia Pacific. Similar to the second quarter, we continue to experience strong order intake and high demand for our products, resulting in a higher order backlog compared to pre-pandemic levels. These favorable trends give us the confidence we will achieve sequential improvement in 4Q21, finishing the year on a strong note and building momentum as we head into 2022."
Quinlan's Pharmacy Hosts Congressional Candidate Joe Sempolinski
John Quinlan of Quinlan's Pharmacy hosted an event on Nov. 17th with congressional candidate Joe Sempolinski. Sempolinski is running in New York's 23rd district to replace Tom Reed who is not seeking another term in 2022. Quinlan (who serves as president of the Northeast Medical Equipment Providers Association [NEMEP]) and the group discussed DMEPOS concerns with the candidate, including the need to release the DMEPOS Final Rule and extend Cares Act reimbursement for non rural areas and rural areas and to establish new rates for competitive bid areas due to increase costs of equipment, PPE, surcharges and increased labor costs. The group also discussed the need to fix the supply chain issues at ports and create a plan to manufacturer more in the USA.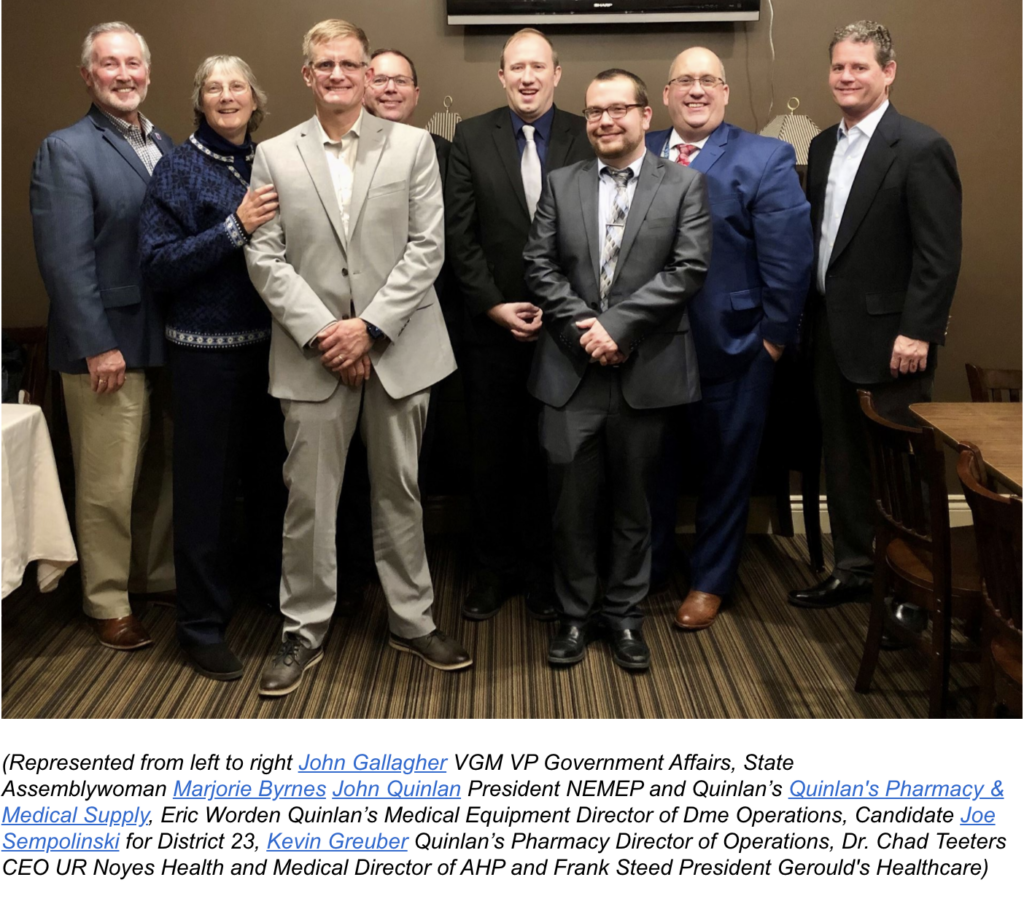 John Gallagher also attended the event and reports, "I was very impressed with candidate Joe Sempolinski and the two hours he took listening, asking questions, taking notes, and trying to understand what is happening to healthcare access in his potential rural NY district."
Gallagher adds: "John Quinlan did an outstanding job of inviting a diverse group of healthcare providers (hospital administrator, pharmacy, DME, nursing) to discuss what is happening with supply chain, staffing, Medicare & Medicaid issues. It is critical that we as an industry follow John Quinlan's lead and educate early on future political leaders on DME and how we are an integral cog in the continuum of quality post- acute healthcare."