WASHINGTON, DC – At a House Appropriations Committee hearing last week on the FY 2019 appropriations for the Office of Management & Budget (OMB), Director Mick Mulvaney confirmed that his Agency is working to release the HME-related IFR originally sent from CMS in August 2017.  While Mulvaney did not give a firm timeline for action, he referenced the strong Congressional interest in getting the rule released and noted that he had "probably received more calls about this than any other rule put together."
Mulvaney's comments were in response to a question from Rep. Kevin Yoder (R-Kans.), who has said he has been hearing from his constituents on this issue and described the bidding program as hindering the ability of Medicare beneficiaries to receive home oxygen and other HME products.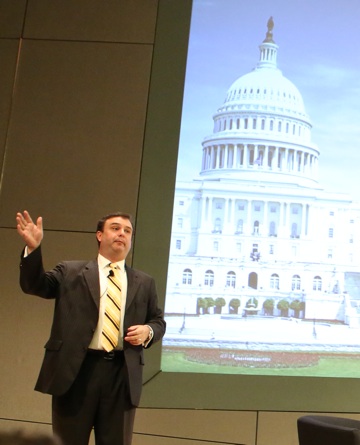 Thanks to ROTECH, MAMES and HME suppliers in Kansas for raising the visibility of this issue with Rep. Yoder, and for the grassroots outreach from HME stakeholders across the country who have helped make moving the IFR a priority for their legislators — ultimately making a strong impression at OMB!  Let's keep the pressure on and continue to build awareness and support for the IFR (see story below) and HR 4229 in the weeks ahead.
A video of the exchange between Director Mulvaney and Rep. Yoder can be seen here.  An approximate transcript is also shown below.
Rep. Yoder:  Director Mulvaney, just a couple of quick questions here.  I've heard from a number of constituents concerned about the Medicare Durable Medical Equipment program, including patients who rely on home medical equipment therapy in order to to remain in their homes, and unfortunately, the CMS bidding system for durable medical equipment has hindered the ability of Medicare patients to access these vital devices.  
I'm aware that an interim final rule from CMS that addresses this issue is currently at OMB and the rule has been pending since August of last year.  As you know, Congress had included report language to accompany the FY 2019 Omnibus urging that the Rule is finished – Can you share an update where the Rule is in this process, and how far away from finalization that might be, and what steps is OMB taking right now to review the rule in a timely manner?
Dir. Mulvaney: I can share with you where it is in the process, Mr. Yoder, but because of where it is in the process, that's the only answer I can give you, which is that it is currently under review at the Office of Information & Regulatory Affairs, and we do not comment once things are at OIRA.
I will say this: I have probably received more calls about this than any other rule put together. Since we're aware of the urgency to members of both parties, I'm interested in getting it out as quickly as we possibly can [emphasis ours].  That being said, it's a fairly complex rule, and it's absolutely critical that we get it right because of the scope of this rule, so I won't be able to comment…
Rep. Yoder: I don't think we're asking for anything more than you're clearly aware that this is a critical issue for our constituents and I hope you're going to work on it as fast as you can, but do it the right way.
Rep. Mulvaney: Yes, sir.
AAHomecare Brings DME Manufacturers Together to Address Tariffs
WASHINGTON, DC – Representatives from AAHomecare member companies in the manufacturing segment met today to discuss a response to proposed tariffs of 25% for medical equipment sourced from China.  AAHomecare will be submitting comments to the U.S. Trade Representative on behalf of the HME industry and will also coordinate advocacy from manufacturers and other stakeholders against the proposed tariffs.
In a reimbursement environment that finds suppliers dealing with extremely narrow or even negative margins in many product categories, a sudden increase in costs for Chinese-manufactured equipment would cause significant hardship and disruption for suppliers and their patients.  In that light, a vigorous response from the Association and the HME community is certainly warranted.
Washington Legislative Conference Registration in Full Swing
AAHomecare Washington Legislative Conference
May 23-24, 2018 – Sheraton Pentagon City – Arlington, Va.
We are just five weeks away from the largest HME lobbying event, the Washington Legislative Conference.  This is the best opportunity to advocate relief for rural/non-bid suppliers and enlist Congressional support for important reforms for the next round of the bidding program. With hundreds from the HME community joining together to speak with one voice, we can make an impact on Capitol Hill.
Here are three reasons you should make this year's conference a priority for your business:
Issue Education- Each year our staff provides an overview of the issues currently effecting HME providers and manufacturers, along with handouts and leave behind materials for you to share with legislators. Even if this is your first time to make a lobbying visit, you will be prepared to speak with confidence. We will also pair you with others from your state and in some cases district, who will amplify your voice. But the most important thing you can do is tell your story!
Capitol Hill Appointments- Directly engaging Members of Congress and their staff is the most effective way to build relationships and secure their active support for HME public policy priorities, and the legislative conference provides a convenient framework for these meetings!  Even if you are a relative newcomer to HME advocacy, we'll give you the tools and support to make a strong impression with your legislators!Please register for the conference as soon as possible! The earlier we know that you are coming, the faster we can start securing a full schedule of appointments for you – and registering early will improve your chances of getting a more productive meeting schedule. Contact Gordon Barnes at gordonb@aahomecare.org with any questions or special requests you may have related to scheduling your appointments.
Industry Connections- this conference provides a venue for connecting with colleagues, discussing challenges and policy, and building on the future of HME. You will have the opportunity to sit with other leaders from your state during the luncheon, sponsored byPhilips Respironics and A/V by Smith & Nephew, during the issue education. There will be time to mingle with legislative staff and the HME community during the Capitol Hill Reception, sponsored by Brown & Fortunato. You will also have a unique opportunity to be present for the AAHomecare Annual Membership Meeting, sponsored by McKesson.Leaders in the industry understand the importance of attending this conference and lobbying on Capitol Hill. Join them and make a difference.
Hotel Rates for WLC Guaranteed through April 28
The American Association for Homecare Washington Legislative Conference will be held at the Sheraton Pentagon City. Ask for the Legislative Conference for AAHomecare rate when you call 800-325-3535 or reserve your room online.
AAHomecare offers sponsorship opportunities for this conference to help offset the cost of this important gathering. If you are interested in becoming a sponsor for 2018, please contact Sue Mairena at suem@aahomecare.org for details.
Register here.
Conference Rate $49 Members | $99 Nonmembers