WASHINGTON, D.C. – On May 10, HHS Secretary Xavier Becerra reaffirmed the Agency's commitment to providing at least 60 days' advance notice before ending the ongoing COVID-19 Public Health Emergency (PHE).  See Secretary Becerra's letter to U.S. governors here.
Practically speaking, the letter means the current PHE, previously extended to July 16, 2022, will remain in effect beyond that date, as the 60-day advance notice deadline for ending the emergency passed on May 16.  HHS has previously extended the PHE deadline in 90-day intervals from the date of the established deadlines.  If that practice is continued this time around, the PHE would next be extended until mid-October of this year.
As long as the PHE continues, the 75/25 blended rate in non-rural/non-CB areas will remain in effect, along with other policies tied to the status of the PHE, including:
NCD/LCD flexibility allowing expanded use of home-based respiratory products/therapy, as well as infusion and anticoagulation devices.
Waiver of face-to-face requirements for many products; allows use of telehealth for items that are not included in the waiver such as PMD.
2% increase in Medicaid FMAP match (will remain in effect though the end of the quarter the PHE expires).
State Medicaid waivers and flexibilities tied to the PHE (states may, however, end flexibilities they have granted at their discretion).
TRICARE reimbursement increases tied to the Medicare rate relief.
Messaging For Relaxed PAP Compliance
WASHINGTON, D.C. – Demand for PAP machines continues to outstrip available devices in the wake of last year's recall and ongoing supply chain issues impacting production of new equipment.  Decreased availability of semiconductor chips for medical products has been one of the major contributors to this problem.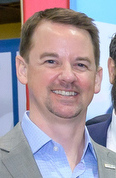 Some manufacturers have stepped into the market with products that do not utilize as many specialized electronic components and offer fewer technical capabilities.  In some cases, new PAP devices that have entered the market do not have wireless cell modem data tracking technology, which can record patient compliance data, which some insurance company policies require to authorize continued use of a PAP device and replacement supplies.
AAHomecare has developed a letter that suppliers can use with their payers explaining the issue and requesting that "insurance companies remove, for a limited period of time, any policy requiring patient compliance data for continued use or authorization" in order help maintain patient access to PAP devices.
Suppliers looking to utilize PAP devices with limited data tracking/sharing capabilities can download the letter here. Contact David Chandler (pictured), senior director of Payer Relations, at davidc@aahomecare.org for more information.