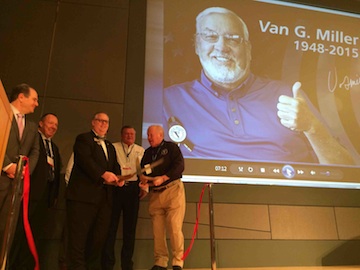 ATLANTA – If CMS has its way, rural providers will face a reimbursement reduction of up to 45% on January 1, 2016. The so-called "rural rollout" of competitive bidding is a major concern for Tom Ryan, president and CEO of AAHomecare, but it's one of many.
"The battles are outrageous, and they keep coming," said Ryan during the AAHomecare Update on day two of Medtrade. "Audits? Outrageous. Expansion of competitive bidding? That's not sustainable. It's not going to work…We've got legislation that we hope will fix it."
With Rep Tom Price (R-Ga) as an ally and industry champion, Ryan and Jay Witter, AAHomecare's senior VP, Public Policy, say that anticipated legislation would require CMS to:
• establish a 30% adjustment to address increased costs suppliers incur in non-competitive bidding areas to be applied to average regional single payment amount as determined by the methodology set forth in 42 C.F.R. 414.210(g) (79 Fed. Reg. 66120 (November 6, 2014)), as well as an update mechanism;
• provide for a four-year phase-in of the national price adjustments to the DMEPOS fee schedule set forth in 42 C.F.R. 414.210(g) (79 Fed. Reg. 66120 (November 6, 2014)) when implementing them; and
• establish in statute the bid limit ceiling for competitive bid contracts that begin on or after January 1, 2017 at the unadjusted fee schedule payment rates as of Jan 1, 2015.
These provisions would serve as a starting point as the association moves forward in negotiations with leaders in Congress to have the language either included in future legislation, or as a stand-alone piece.
Audits continue to plague providers, and AAHomecare officials are collecting data to show lawmakers the full effects. Ryan and Witter urged all providers to go to www.hmeauditkey.org and input their information. "We have people willing to fight for us," said Ryan, "but we need that information."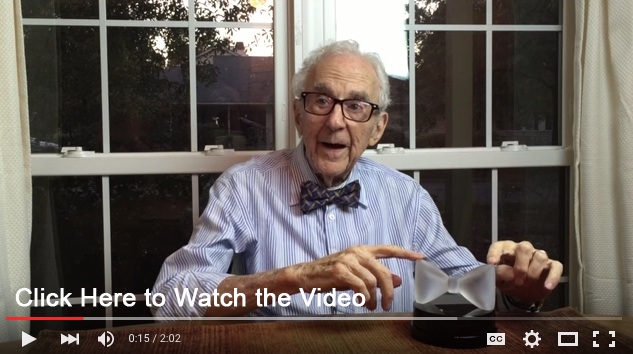 Tributes to Van G. Miller and Sheldon Prial
The AAHomecare Update concluded with two moving tributes to industry icons Van G. Miller, founder of the VGM Group, and Sheldon Prial (CLICK HERE to see Shelly's two-minute acceptance speech via YouTube), longtime industry advocate and Medtrade ambassador.
Miller died suddenly last week of an apparent heart attack at the age of 67. Medtrade officials showed a five-minute video tribute to Miller, garnering a standing ovation from attendees. Eighty-nine-year-old Prial received the inaugural Sheldon Prial Lifetime Achievement Award, with officials relaying a taped message (see photo on right, click here to see Shelly message) from Prial's home in Goose Creek, SC.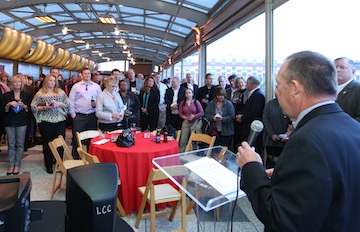 Tart Brothers Receive Honors at Stand Up for Homecare Event
ATLANTA – This year's annual Homecare Champion Award went to brothers Joey Tart and Billy Tart, co-founders of Family Medical Supply Inc, a home oxygen and home medical equipment company with 17 locations throughout central and eastern North Carolina.
The Homecare Champion Award recognizes AAHomecare members who have made exceptional contributions to the homecare community throughout their careers. A Homecare Champion embodies the spirit of service and caring that are hallmarks of successful leaders in the industry.
Joey, who serves as president at Family Medical, along with Billy, the COO and vice president, have had many Capitol Hill visits, including meetings with staff members who work with Rep. Renee Ellmers (R-NC), a well-known advocate for the HME industry. "You've got to go meet your members of Congress," said Joey Tart at the Stand Up for Homecare reception, held on Tuesday, Oct 27, at the Metro Atlanta Chamber of Commerce, during day two of Medtrade. "You can't give up," added Billy Tart.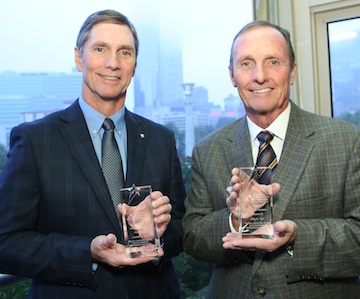 Beth Bowen, executive director of the North Carolina Association for Medical Equipment Services, nominated the Tart brothers for the award. Bowen pointed out that while the brothers operate numerous locations in the Tar Heel state, they still manage to regularly engage their legislators.
"Their advocacy is helped by their community involvement," she said. "Anyone who is an elected official in their district pays attention, because they are well respected and work hard. Joey and Billy are professionals when it comes to presenting their case, and presenting the industry's issues, to people who may or may not understand those issues."
The Stand Up for Homecare reception is the premiere networking event for the HME community, and raises funds that help build mutually supportive relationships with HME consumer/patient groups, as well as enabling outreach and educational efforts aimed at policymakers and the media. Providers helped raise more than $60,000 at last week's event.
Groups supported by Stand Up for Homecare funds include the National Council on Independent Living, Paralyzed Veterans of America, United Spinal Association, and the American Association of People with Disabilities. These funds have also supported the development of the Save My Medical Supplies program, which has recruited thousands of individuals to help promote HME advocacy priorities.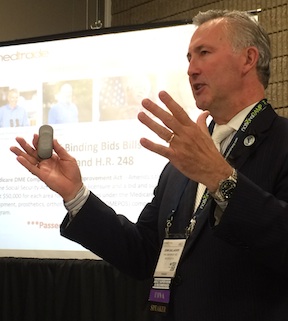 Gallagher Outlines Industry's Legislative Challenges on Day One of Medtrade
ATLANTA – On Jan. 1, 2016, CMS plans to expand competitive bidding program rates to rural America. If it happens, rural providers would face a reimbursement reduction of up to 45% in most areas.
In the short term, John Gallagher, vice president of Government Relations at VGM & Associates, is urging providers to get patients involved in grassroots efforts by asking lawmakers to stop the rural rollout. Specific legislation has not yet been introduced, but is likely to come soon.
Gallagher made the remarks during a presentation on day one of Medtrade at the Georgia World Congress Center in Atlanta. Another priority for the industry is getting recently passed binding bids legislation to kick in (through an appropriations strategy) during the earlier part of the required window, which stretches between 2017-2019.
"The language says no sooner than 2017, and no later than 2019," explained Gallagher. "Why is 2017 so important? Because you are already looking at 2018 for the re-bid, and 2019 would be right behind it. So CMS would get two more bids, with suicide bids in there, if they were able to push it back to 2019."
In the long term, Gallagher is keeping a close eye on government plans to apply Medicare competitive bidding rates to Medicaid. "We've got to make sure that doesn't happen," he said.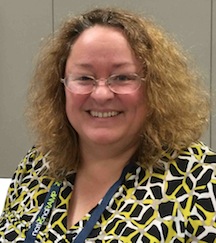 Catherine A. Hamilton, chief financial officer at Coastal Med Tech Inc, Hermon, Me, attended the Gallagher presentation, and expressed considerable concern about the impending rural rollout. "We are shell-shocked by it," she said. "The rollout is a nightmare…We would have to take a large loss, and may not be able to serve oxygen patients with POCs or tanks. It [proposed rollout] is not sustainable."