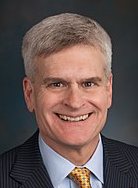 WASHINGTON, DC – Late last week, AAHomecare officials received word that the sign-on letter encouraging removal of non-invasive ventilators from competitive bidding, led by Senators Bill Cassidy (R-La.) [pictured] and Sherrod Brown (D-Ohio) is being targeted to close on Wednesday, June 26 to get the letter to HHS and CMS leadership as soon as possible. Senate offices have been hearing from the HME community about the sign-on letter, as well as from patient groups that are also opposed to adding non-invasive vents to the bidding program.
The ITEM Coalition, a set of national disability organizations, aging organizations, consumer groups, voluntary health associations, and non-profit provider associations, is the latest group to weigh in in the issue. See their letter to CMS opposing non-invasive ventilators in the bidding program for more detail.
Build on the strong showing for the House sign-on letter and make sure the Senate is fully aware of the urgent need to keep ventilators out of CB Round 2021. Contact Gordon Barnes at gordonb@aahomecare.org for contact information for Senate staff who handle healthcare issues.
RAC to Audit Glucose Test Strips
On Friday, Performant, the Recovery Audit Contractor (RAC), received approval to audit blood glucose test or reagent strips (A4253). This is a national complex review and the description of the review states: The quantity of glucose test strips (A4353) that are covered depends upon the usual medical needs of the diabetic patient. Documentation will be reviewed to determine if the utilization guidelines for blood glucose test strips (A4253) were met. Only HCPCS code A4253 is being reviewed for this audit and claims paid date must be within three years before the Additional Documentation Request. You can find the announcement here.