LAS VEGAS – Manufacturer representatives from nine finalists in the biannual Innovative HME Retail Product Awards (sponsored by HomeCare Magazine) vied for the coveted top three awards at the recent Medtrade Spring at the Mandalay Bay Convention Center in Las Vegas.
The top vote getter was Pride Mobility Products with its Jazzy Air Powerchair. Medtrade Monday sat down with Jim Schreiber, vice president of Digital and Product Marketing, Pride Mobility Products Corp, to find out why the Jazzy Air resonated so powerfully with judges and attendees. Schreiber is pictured here sitting in the Jazzy Air during the Medtrade Spring educational session in which all finalists had an opportunity to present their products to judges and attendees.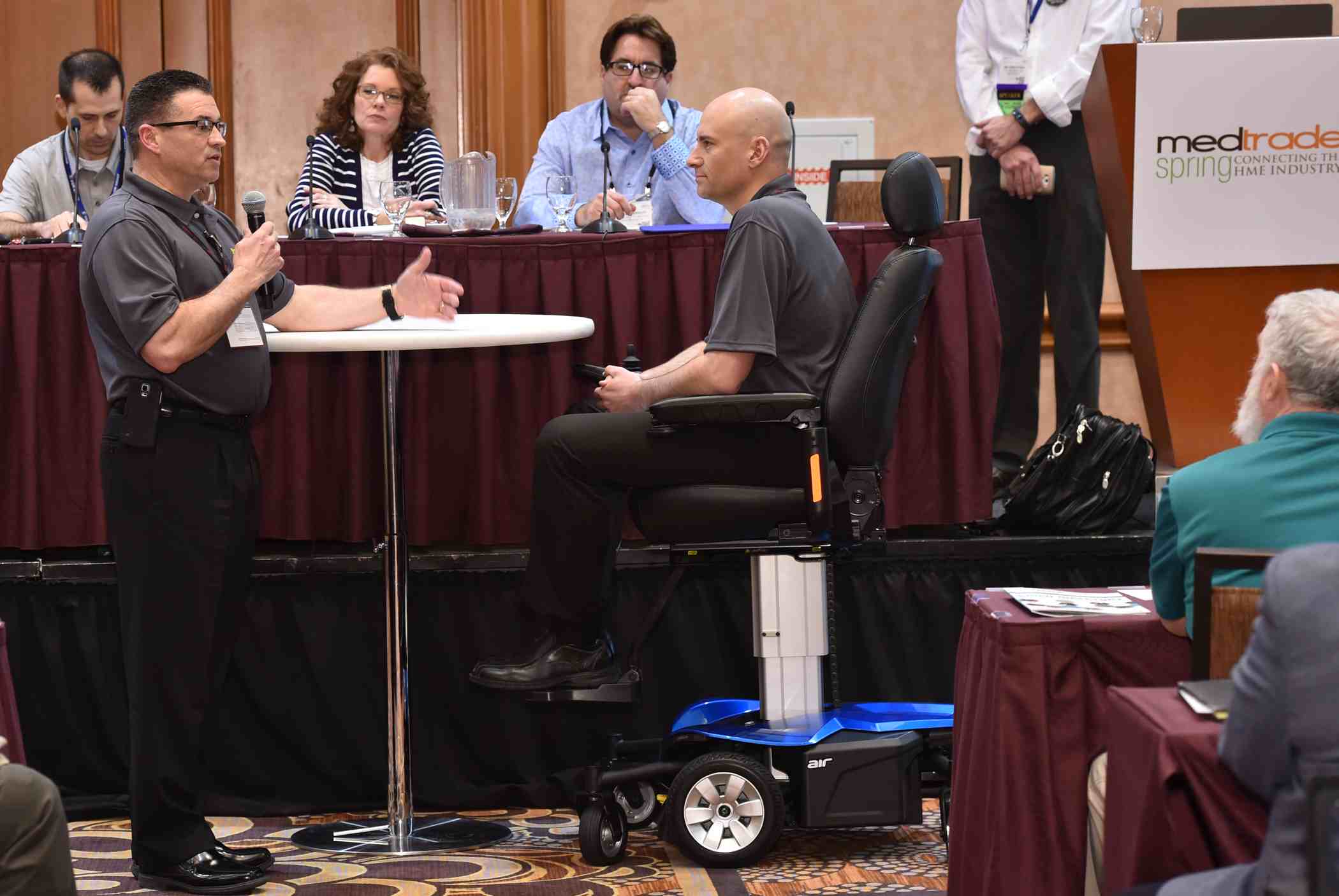 Greg Thompson, editor of Medtrade Monday: Why do you think the Jazzy Air made such a good impression on the judges and attendees?
Jim Schreiber, vice president of Digital and Product Marketing, Pride Mobility Products Corp, Exeter, Pa: The Jazzy Air brings consumer and retail innovation to a new era—delivering medical need without limiting independence and social interaction—and it's easily seen in the product itself. The ability to use a stylish, compact retail power chair elevated at standing height is a life-changing form of mobility. Everyone is so used to traditional wheelchair height that to now be elevated and fully mobile for independence and social interaction is a poignant shift that all can appreciate.
Thompson: How can the Jazzy Air help providers succeed in an era with reduced Medicare reimbursements?
Schreiber: The Jazzy Air is an ideal cash product for providers at a time when retail sales are needed more than ever. With dramatically reduced reimbursement possibilities, providers need retail products that truly appeal to consumers who are eager to self-fund the right mobility to sustain their lifestyle. The Jazzy Air is inspiring consumers to see mobility not just as a medical device, but as a way not to be limited socially. It's a life-enhancing tool that they see value in. In these ways, the Jazzy Air is a fantastic product to bolster provider retail sales.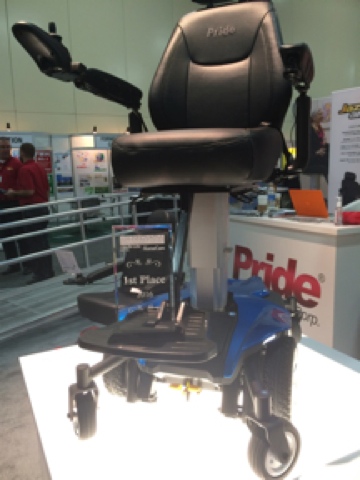 Thompson: What was the design process for this particular chair?
Schreiber: We listened to the market, both providers and consumers. Consumers wanted not just medical benefits in a power chair, but benefits that maintained their lifestyle and social interaction. Providers sought a truly consumer-demanded retail product to draw retail sales—the type of product that they would invest money to advertise in their market. The result is the Jazzy Air, a truly consumer-sought retail mobility product.
Thompson: What's on the agenda for future products/categories in the Pride Mobility family—products that providers can possibly see at Medtrade in Atlanta (scheduled for Oct 31-Nov 3, 2016) later this year?
Schreiber: We continue listening to consumers, clinicians, and providers in all mobility product categories as the catalyst for development. When you pursue what your customers seek, remarkable products evolve. So, we're excited to keep delivering market-sought innovations that truly enhance lives.
"Caretailing is the evolution that we are looking to create," said moderator Jim Greatorex, Business Development, VGM Retail Services, at Medtrade Spring. "I was impressed by the quality of the entrants. Medtrade Spring attendees and judges made the ultimate decision."
"For me, it's all about the marketing materials and sales materials so my sales people don't have to do as much work," added award judge Cindi Ciardo, CEO and co-owner, Knueppel Healthcare Services. "If we're busy with other customers, people can look at the merchandising until we're able to talk with them. Good merchandising is a hook."
The top three winners were:
1) Pride Mobility Products: Jazzy Air Powerchair (185 points)
2) Roscoe Healthcare/Compass Health Brands: Free2go Rollator (130 points)
3) Topricin: Pain Relief Cream (109 points)
The nine finalists (in alphabetical order):
• Drive Medical: Flip a Grip (Fall Prevention)
• Grip Solutions (Ideas in Caretail section): Grip Lap Board
• Golden Technologies: Nano Tek High Performance Fabric
• Pride Mobility Products: Jazzy Air (Powerchair)
• Roscoe Healthcare/Compass Health Brands: Free2go Rollator
• Sonic Alert: Home Aware Home Alerting Solution
• Swedo Inc: Swede-O Heel Pain Center
• Topricin: Pain Relief Cream
• Vionic (Vasyli Medical): Vionic Pain Free Shoes
Panelists/judges:
• Mike Sperduti, CEO, Mike Sperduti Companies
• Cindi Ciardo, CEO, Knueppel Healthcare Services
• Rob Baumhover, director of Retail, VGM Retail
The biannual Innovative HME Retail Product Awards (sponsored by HomeCare Magazine) are one of several opportunities to grow providers' caretailing component. The awards honor HME products that are particularly suited for retail sale. "We will be doing these awards again at Medtrade later this year," said Kevin Gaffney, group show director, Medtrade.