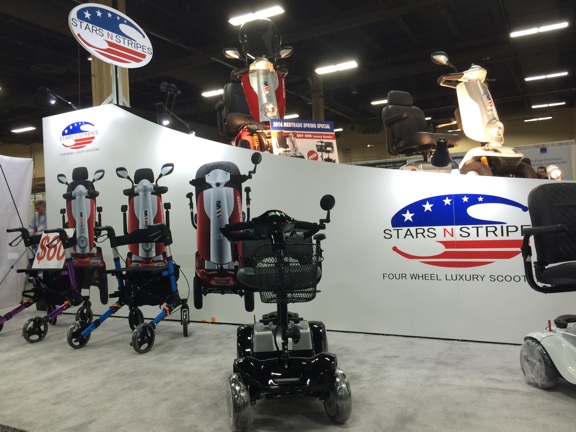 LAS VEGAS – This year's Best Booth Award, as determined by Medtrade Spring judges, went to Stars N Stripes (KYMCO) of Beverly Hills, Calif. The multi-tiered structure came complete with dramatic lighting and plenty of space for attendee interaction. "Stars N Stripes earned the award thanks to their dramatic runway look," said Sarah Varner, marketing director. "Their use of space invited attendees to browse and sit in the company's many colorful scooters."
Mandy Chia, CEO (shown below speaking with a customer on the show floor at Medtrade Spring) of the Calif-based manufacturer, designed the booth with an eye toward customer interaction, as well as a desire to show off the American-made products. Medtrade Monday sat down with Chia to get more insight on the booth, as well as the scooters found in the display's creative setting.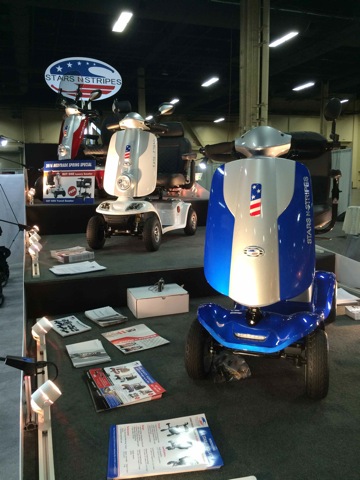 Greg Thompson, editor, Medtrade Monday: Why do you think your booth took home the award?
Mandy Chia, CEO, Stars N Stripes (KYMCO) of Beverly Hills, Calif: It was designed with customers in mind. The booth design and construction focused on how to make it easy for participants to learn about the company and to try out the products. It was served as a "show and tell" to tell our story.
The 500 c.c. motorcycle display was to demonstrate the technical know-how of our manufacturing core competency, and to showcase the sports vehicle standards we followed for our mobility scooter line. The elevated slope made it easy for participants to differentiate from model to model. The display around the slope allowed buyers to try out each and every product. We planned out the flow of booth traffic, as well as the convenience and needs of participants.
Thompson: What was the reaction to your booth and products at Medtrade Spring?
Chia: The reaction was tremendous. It was the first time we exhibited at Medtrade Spring. We were told it would be a smaller and slower show with limited traffic, and some said we should not even participate. However, we believe continuity is the key. We must be at each and every Medtrade Spring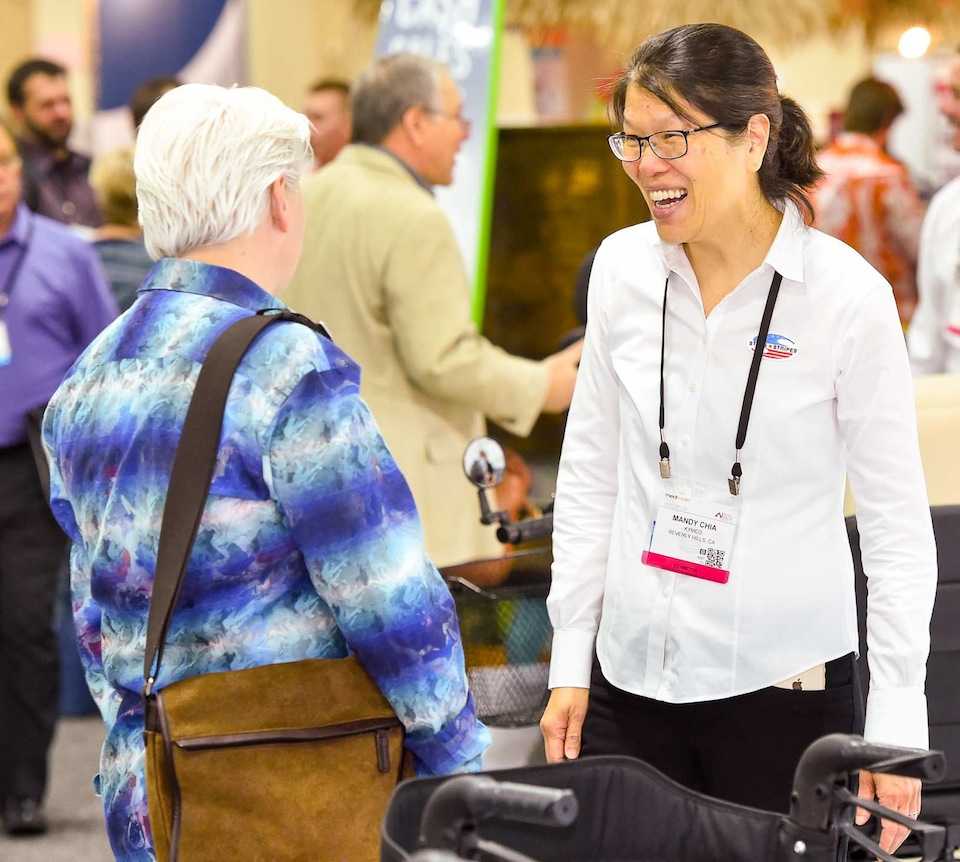 and Medtrade to demonstrate our commitment to the industry and to all the dealers. It paid off because many participants told us they saw us last October in Atlanta, and they decided to become our dealers when they saw us again in Vegas. The continuity provides a level of confidence that suppliers need and want.
Thompson: What plans do you have for your Medtrade booth, scheduled for Oct 31-Nov 3, at the Georgia World Congress Center in Atlanta?
Chia: Now that we have won the Best Booth Award, we have to do it even better to again deserve the recognition by the Medtrade organization and the participants. We will continue the similar theme to maintain a certain continuity. And yet, the size of the booth will be twice as big, and will gain even more attention than the booth at Medtrade Spring. The booth will show more new products and more customer-friendly features. We mean to win again, so we can't reveal too much at this time.