ATLANTA – Medtrade attendees were thirsty for knowledge this year, with registration for educational sessions up 17% over last year. Overall, non-exhibitor attendance at Medtrade, held recently from Oct 26-29 at the Georgia World Congress Center in Atlanta, showed uncanny stability when compared to 2014, with preliminary results showing just 10 fewer attendees than last year.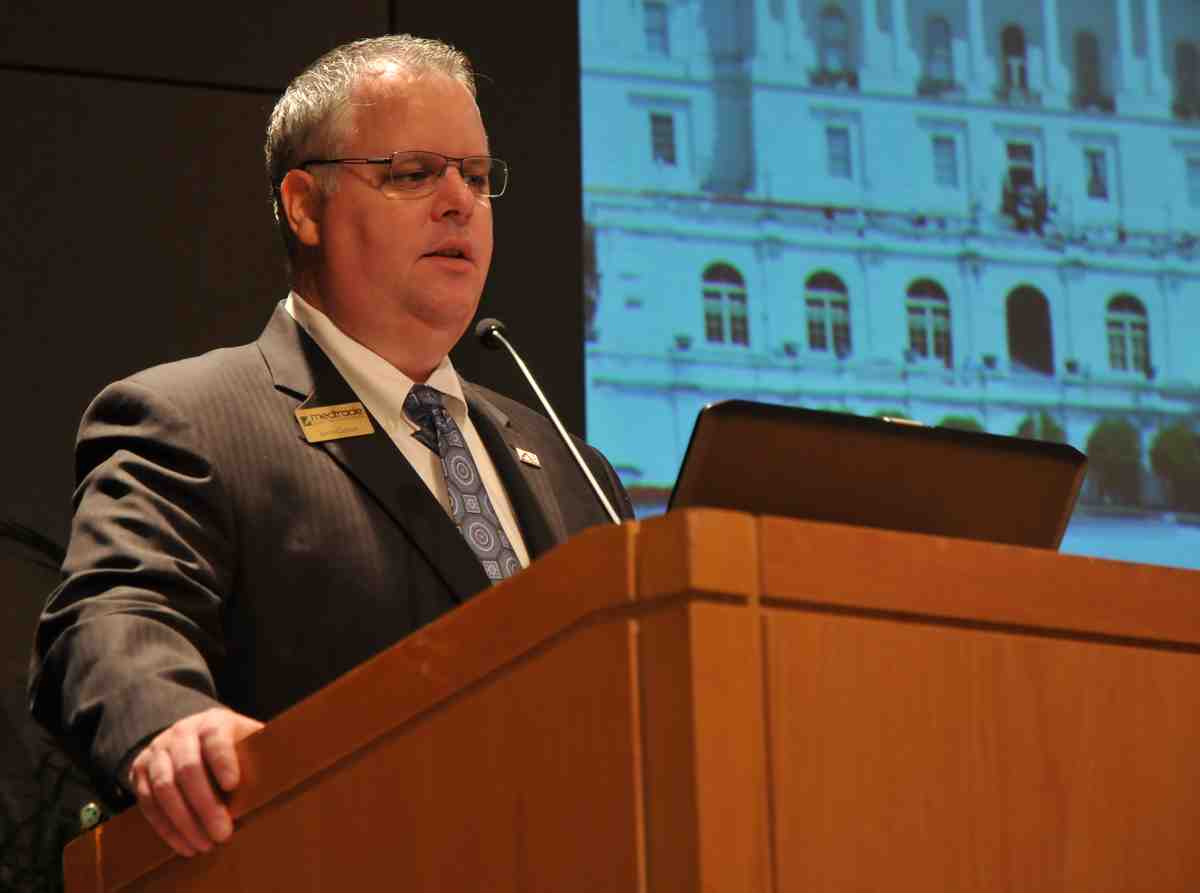 "Overall conference attendance held steady this year, and with the amount of struggles this industry has had, stability is a positive sign," said Kevin Gaffney, group show director. "Ultimately, Medtrade is a reflection of the industry, and we hope these numbers represent a turning of the corner, with providers adjusting to new realities and learning how to capitalize on opportunity. The larger numbers at educational sessions show that attendees wanted to learn.
"Overall, we were pleased with the numbers, particularly in light of the industry's continued uneasiness over audits, and the impending Jan 1, 2016 'rural rollout' of competitive bidding fee schedules," added Gaffney. "We are firmly behind efforts to change and/or thwart the rollout. We look forward to seeing providers at Medtrade Spring, scheduled for Feb 29-March 2 in Las Vegas."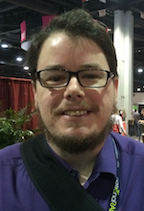 Attendees Speak – Heard on the Show Floor
"We're here at Medtrade trying to help people find the best solutions to better live their lives," said Danny Housley, representative, Tools for Life, a program funded by the federal government and organized by Georgia Tech University. "We help all ages and abilities."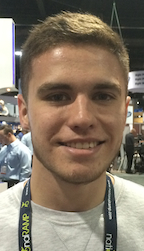 "This is my first year with the company, and I'm here to gain new product knowledge and open new accounts, particularly with some of the larger companies such as Philips Respironics, ResMed, Drive, and Medline," said 18-year-old Christian Garcia, purchasing agent, Paragon Enterprises Inc, Fort Lauderdale, Fla. "I'm optimistic that this industry will grow and lead to a lot of long-term opportunity."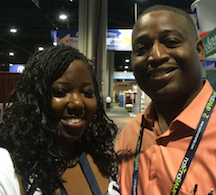 "This is our third Medtrade," said Quentin T. Howell, co-owner, Howell's Medical Equipment & Supply, Milledgeville, Ga (shown here with LaTonya N. Howell, his wife/co-owner of the business). "When you're back home at the business, there's no one to share your problems with. You come to Medtrade and find that other people are also going through audit issues, and the educational sessions here can help you navigate those waters. People are friendly at Medtrade, and seeing new products is always great."
"If HME providers want to stay in business, it's essential that they come to Medtrade," said 56-year-old Don Dobbins, Heritage HME, Wichita Falls, Texas. "The primary reason I'm at Medtrade is education, primarily the sessions that deal with retail and the new regulations. I also love to see the new products on the show floor."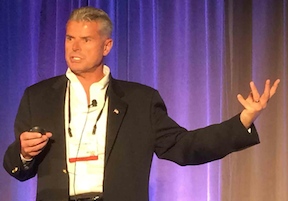 Brightree Summit: Tools of the Trade – Cormack Keynote Brings Optimism
ATLANTA – Brightree president and CEO Dave Cormack told Medtrade attendees that the number of HME providers will likely continue to decline, but opportunity will increase. "Specifically for HME, today the market is a $44 billion marketplace," said Cormack. "It will be $70 billion in nine years time—half the providers around, but almost double the revenue."
The comments came on day one of Medtrade during the Brightree Summit: Tools of the Trade. The eight-hour program from Georgia-based Brightree featured more than a dozen educational sessions, roundtable discussions, and a cocktail reception. All who registered also received complementary access to the Brightree Party at the Tabernacle (Atlanta) on Oct 28.
"The cup is half full," added Cormack. "And there is a lot of optimism around the marketplace…Today our customers serve 48 million patients. In January, it was 40 million patients. Eight million patients have been added to the Brightree platform by our customers since the beginning of the year."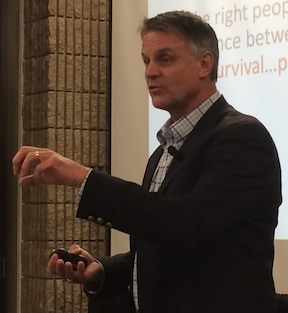 Richard Davis Sheds Light on Talent Retention Issues
ATLANTA – Richard Davis, president, McClain Group LLC (www.pipability.com), Charleston, SC, delved into an often neglected category with his presentation: An Employee Career Ladder: How to Source and Groom Today's Talent. "Who are the people who leave?" asked Davis, a Medtrade speaker for the past two decades who specializes in effective techniques for talent management. "The people who leave are usually the people we want to stay. Your goal is to keep these people."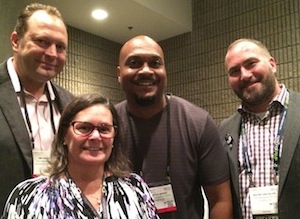 The Audit "Happy" Hour Serves Up Some Fun
Sponsored by: ACU-Serve; Mediware; Pride Mobility; and the van Halem Group
There's not much happiness when it comes to audits – unless you're figuring out how to navigate them. The networking reception that made its debut at Medtrade Spring made a strong showing at Medtrade with a packed house and people staying well beyond the allotted hour. We send a big thanks to sponsors (pictured) for this unique Q&A and networking opportunity.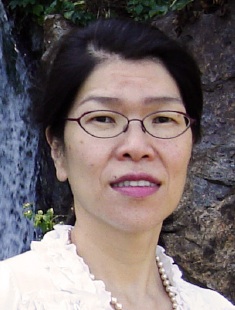 HME Breakfast Club – New for Medtrade
Sponsored by Mediware and Pride Mobility
The HME Breakfast Club made its Medtrade debut, with attendees enjoying breakfast, time to chat with other like-minded HME professionals, and keynote speaker Mandy Chia. Chia is CEO of KYMCO HealthCare USA Inc, DBA Stars N Stripes Scooters. Formerly a dental professional and oral surgeon, Chia has more than 20 years experience as a sales and marketing exec with global pharmaceutical and medical corporations.
Chia shared her take on Romancing Your Customers and improving sales. "If someone says, 'Tell me about your scooter.' What do you say?" asked Chia during the 90-minute session. "Your response should be, 'What would you like to know?' Don't give information that customers don't want. They only want to know what they want to know."
The philosophy relies on answering questions and "keeping your mouth shut." Chia puts it this way: "You don't educate your customers, you agree with them, and at the right time you bring in new information." On price, Chia reminded attendees that they don't have to have the lowest price, but customers want to know that others are not getting a better price.