PHOENIX – Back in late April 2020, Tim Rutti, M.B.A., owner of Phoenix, Ariz.-based Valley Medical Supplies pulled no punches in a wide-ranging discussion during the heady early days of the global pandemic. His comments in Medtrade Monday struck a chord.
Acknowledging "extremely scary times" and "wiped out" foot traffic at his two retail locations, Rutti layed off staff, canceled big-ticket inventory orders, and made a mad scramble to source personal protective equipment (PPE). The massive retooling worked fairly well, attracting new customers who had never heard of Valley Medical Supplies prior to the pandemic.
April's wide ranging discussion (Layoffs, Scary Times, Redemption) is a time capsule of sorts for what seems like a lost month. Four months later, Rutti is still optimistic, but there is also a consistent drive to gauge the new business landscape and try to anticipate what's coming.
With an undergrad degree in Art and an M.B.A. to his credit, Rutti combines a creative mind with a pragmatic streak that is always on the lookout for new business. Being married with two children (ages 10 and 8) adds school-related pandemic challenges to the existing uncertainties of running his nearly 5-year-old business. How is Rutti managing? Medtrade Monday sat down to get a feel for how it's going.
Medtrade Monday: Your last article got high readership, and a few people were a bit mad at you for what they thought was 'taking advantage of the pandemic.' How do you respond to that?
Rutti: It's interesting that you share that information, because I had a couple people call and ask, "Why did you do that interview?" and I said, "I don't know, they called me and asked questions." As far as taking advantage of the situation, I think a lot of people were trying to do the same thing because they were trying to survive. I mean in the end, that's how I look at it.
Medtrade Monday: When did you start Valley Medical Supplies?
Rutti: It's been four and a half years since I moved from Southern California. My wife was happy, but I wasn't because I kept working for companies that would sell, and I kept getting the short end of it. So I decided to do this and opened it four years ago.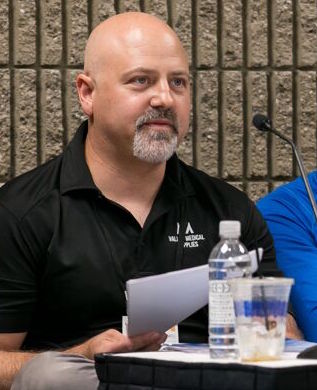 Medtrade Monday: I know that it was steady progress from day one, but what has it been like since March of 2020?
Rutti: In everything I do, I try to build a good company that's meaningful and does something good for the community. I want to be an employer in Arizona and support my family. In March, everything happened so quickly. I came back from Medtrade Spring and everything got thrown upside down, put on hold, and it was all about trying to figure out how bad is it going to get? It hit me in mid March, and then it just kept getting worse. At that point, it was all about trying to figure out all the bank loan stuff.
Medtrade Monday: How did  your strengths as a business person help you through this period?
Rutti: I am a people person, and I understand marketing and how to sell, and how to present my company. During the first months of the pandemic, I was looking at my cash flow and it was shrinking. I had the most employees that I had ever had. I had all kinds of inventory, and I was set up to continue on the retail and rental business that we had worked so hard to establish.
Medtrade Monday: What was the customer base asking for at that point?
Rutti: People were hitting me up with PPE requests and I couldn't find any stock. That's something I talked about in the previous article. In the end, it was a lot on that PPE side. I went into it with eyes wide open, knowing that if I don't treat my customers right, if I don't treat them fairly, and if I jack up prices, I will damage my reputation. I went through all of that ethically and kept all those new customers. Those new wholesale customers continue to this day and are still ordering from me. They call me, they talk to me, and they respect me because I didn't I didn't screw around with them. My accountant my not have thought it was right. He says, 'You should have made more,' but I made the fair profit. Since then, I've gotten more referrals and reached out to other businesses and other government entities, and we've been more proactive in reaching out. Gyms, restaurants and schools—those all panned out
Medtrade Monday: What has been the specific situation in Arizona?
Rutti: We really got hit with COVID in July and June when they locked the whole state down again, and that put a lot of fear into our customers and into anybody who was trying to come out. And then the riots started right around that time, and Arizona was not alone. Curfews were put in place, and that was just another blow to us, and to the consumers. Plus, Arizona always slows down seasonally when it gets really hot. People don't like going out.
I'm sure most retail is probably affected even more than HME because there are still medical needs, people have surgeries, or some sort of critical catastrophic event like a stroke. The need for medical equipment is unlike the need for t-shirts. For us, it's been felt in reduced sales and reduced traffic in our stores. The elective surgeries have been on-again off-again, but mostly off since this virus hit.
Medtrade Monday: What other facets of your business have suffered?
Rutti: We had a healthy rental event business. For example, I have a large fleet of power scooters and Wheelchairs, and I would go to events where people would rent equipment at the entrances at the tents. That was a nice piece of our rental business, and that's all but dried up because everything is canceled.
Medtrade Monday: What has been your most surreal moment?
Rutti: At one point, I was the only one who was working for two and a half weeks, because everybody was waiting for their COVID results. Everything that could have happened has happened this year, and it's an election year on top of everything. When I started my business in 2016, it was an election year.
Medtrade Monday: What's your operating philosophy these days?
Rutti: I am trying to keep my business alive so that I can make it through and hopefully it returns back, not to normal, but to something that resembles what it did before.
Medtrade Monday: How is staffing these days?
Rutti: I have a lot of people who work for me, and they enjoy it, and I don't want that to go away. I don't want to die on the vine like so many businesses seem to be doing. Consumer habits are much more online, and things have really kind of shifted. It's just so different, and I wish I could predict what's going to be the next move. I've spent a lot of time in the last couple months setting my goals for the rest of the year and into next year, and trying to understand what it's going to look like on the retail and rental side.
Medtrade Monday: What's your level of optimism these days?
Rutti: I used to work on the biotech side, and I worked at Merck, and and it was a big vaccine maker. I know all these companies are working really hard to get something. I can see a time that it won't be a sphere of COVID. It won't go completely away, it won't be cured, and the vaccine is definitely not the only answer, but I know that people will start to feel safer. People are lined up to get their knees and their hips replaced, and that is going to help our business.