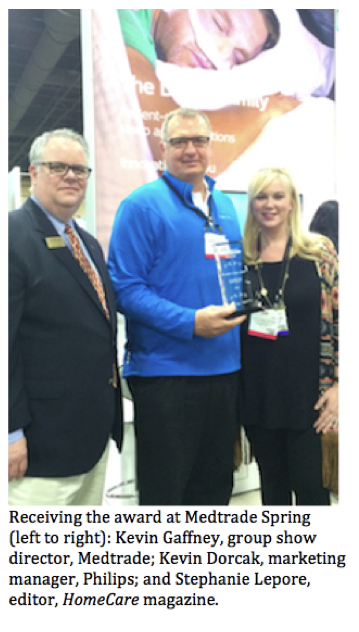 LAS VEGAS – Medtrade Spring attendees who visited the New Product Pavilion made their votes count on day three of the recently completed show, which wrapped up two weeks ago at the Mandalay Bay Convention Center in Las Vegas.
With all votes counted, the Providers' Choice Awards (sponsored by HomeCare Magazine) yielded the following gold, silver, and bronze winners:
• The Providers' Choice Gold Award went to the DreamStation Positive Airway Pressure (PAP) from Philips Respironics;
• The Providers' Choice Silver Award went to the LifeWalker™ Upright by ProtoStar Inc; and
• The Providers' Choice Bronze Award went to the EZ Fold-N-Go Walker by Stander Inc.
Jim Doty, senior director of Field Marketing for Philips, credited the DreamStation's success to its "patient driven" design, fueled by direct input from users. To get a better idea of what went into the DreamStation, Doty sat down for an interview shortly after Medtrade Spring.
Q: Why do you think DreamStation PAP made such a good impression?
Jim Doty: DreamStation, and the rest of the Dream Family products, are a result of patient-driven design. During the design process we spoke with hundreds of regular CPAP users. Patients reported that in order to make PAP therapy work for them, they had to modify how they slept and interacted with their partners which was both frustrating and discouraging, especially during the initial phase of use. With this feedback, we created DreamStation to be quiet and have low profile, and the tube attaches on the top of the device. In addition, we integrated daily user feedback via an intuitive color screen to keep patients engaged and encourage adherence to therapy. Using Bluetooth, cellular, or Wi-Fi to transmit patient data between the PAP device and DreamMapper, DreamStation provides more remote monitoring options, as well as waveform reporting for clinicians to track patient progress and ensure optimal therapeutic effect.
Q: How can the DreamStation help providers succeed in this difficult business climate?
Doty: DreamStation is designed for the current sleep therapy market in a number of ways. DreamStation is designed by and for patients to increase patient engagement that results in increased long-term use. DreamStation also incorporates wave-form technology that enables clinicians to closely monitor therapeutic impact and efficacy, as well as an on-board diagnostic tool that simplifies patient interactions and eliminates unnecessary patient home visits.
In addition, DreamStation is supported by EncoreAnywhere, the largest cloud-based repository of patient sleep information in the world. EncoreAnywhere is cloud-based and can be shared between clinicians, caregivers, and patients, providing a streamlined process for patient management. Due to increased information transparency, patients are more aware of their progress and whether they are at-risk for losing their devices due to failure to meet compliancy standards. With Dream Solution, patients will have higher success rates for long-term therapy and DMEs will be able to invest fewer resources in cleaning and redistributing devices.
Q: What was the design process for this particular product?
Doty: The DreamStation design process started with months of meetings and interactions with patients and clinicians from around the world. The meetings included users new to therapy as well as people who have been on therapy for years to get a comprehensive perspective on what would make the most usable CPAP in the world. What were the design characteristics that appealed to patients? How did engagement impact use? And what did clinicians need to more efficiently serve patients short and long term needs. The result is the DreamStation in its current form, and the Medtrade Spring attendees seemed to think we got it right.
Q: What's on the agenda for future products/categories in the Philips family — products that providers can possibly see at Medtrade in Atlanta later this year?
Doty: Philips Respironics is dedicated to creating products and solutions that help patients stay connected, engaged, and empowered in their health. In the coming year, we'll be looking to expand our suite of sleep and respiratory solutions using similar patient-centric designs to meet their needs and desires.