ATLANTA – ResMed is a powerhouse in the world of sleep medicine, but the San Diego-based juggernaut is not content to rest on its laurels. The company's commitment to innovation was on display at last month's Medtrade, with The AirFit N30 CPAP Mask earning the The New Product Pavilion Providers' Choice Silver Award, sponsored by HomeCare Magazine.
Lizzy Blaylock, sleep product manager, ResMed, says visitors to ResMed's booth at Medtrade had an opportunity to feel the product, which only contributed to high opinions of the new offering. "Samples, posters, and on-hand experts were there to answer any questions, and I think that's why voters responded so positively," she says. "ResMed developed the AirFit N30 and the rest of its comprehensive mask portfolio to meet the needs of all patients – and the clinicians who support them. The goal is to help millions more embrace and stay on therapy, improving their sleep and overall health."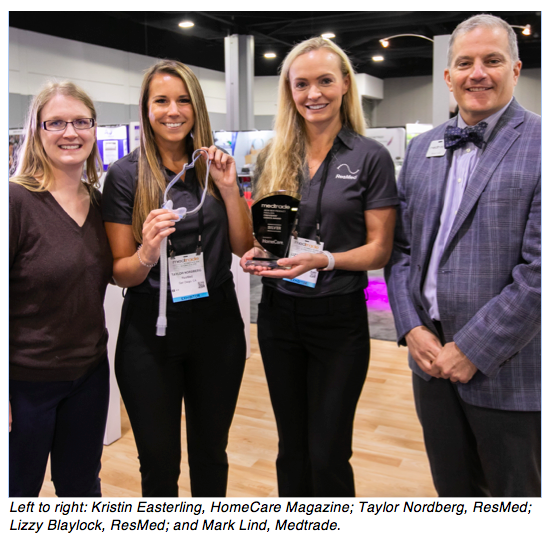 The AirFit is one element of what Blaylock sees as a growing opportunity to expand the sleep medicine industry. With more than 936 million people suffering from sleep apnea worldwide, "only about 20 million are being treated." With raw numbers telling the story, Blaylock laments that many sufferers still don't realize that CPAP could help them.
"Over 80 percent of sleep apnea cases are undiagnosed as snoring, chronic fatigue, and other symptoms go ignored or attributed to other medical conditions," Blaylock says. "As for CPAP itself, we believe there's a mask for everyone, and all CPAP users can get a truly comfortable fit and great seal while they and their bed partner enjoy a quiet, full night's sleep. For anyone who stopped therapy after trying one or a couple masks, I'd urge them to keep searching. ResMed has a wide range of cushions, headgear, and other features to give everyone the personalized comfort and fit they need to sleep, breathe, and live better."
AirFit N30 falls into ResMed's minimalist category, specifically for patients who want something small and lightweight that is also easy to use. This mask rounds out the minimalist category, along with the nasal pillows AirFit P10 and full face AirFit F30.