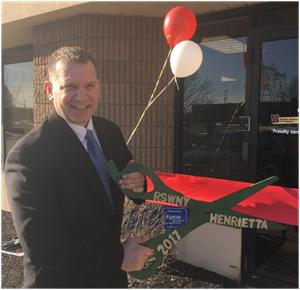 ROCHESTER, NY – Respiratory Services (RS) of Western New York opened a new retail/caretail store last month in Henrietta, NY. Michael J. McCartney,
owner and CEO, made the move to meet expanding demand in the Rochester
region. RS has additional NY locations in Dunkirk, Cheektowaga, Arcade,
and Depew.
"There was a need in the Henrietta area," he
explains. "There were a couple of contracts that one of my locations
[Cheektowaga] could not service being an hour away. I could not be a
participating provider in that area unless I had a physical location, so
I took the plunge. With the hospitals, discharges are going to happen
within the hour…Now that I have a brick and mortar in this location, it
is paying off because they are coming after me for contracts now."
In addition to the retail/caretail
sector, the locally owned and operated RS will be providing invasive
and non-invasive ventilation, oxygen concentrators, CPAP and BIPAP
machines, hospital beds, wheelchairs, and other types of HME and
supplies. The new store in Henrietta (a suburb of Rochester) has a full
caretail-themed showroom with supplies that include: compression
stockings; bath safety; ambulatory devices; various items to assist with
daily living; diabetic shoes; lift chairs; and scooters.

The
new shop in Henrietta is not McCartney's first venture into the
retail/caretail area. When competitive bidding came into effect, he
converted an old 7,000-sq-ft BlockBuster Video store in Depew, NY, into a
"cash and carry" shop. "People come in and try the equipment, and if
they like it, they buy it instead of buying it online," he explains.
"Depew is on the outskirts of Buffalo in a blue collar area, which is
great because you get a lot of business from the hard working people in
the industrial area."
Competitive bidding does not affect the
new location. Even though it is in a competitive bidding area, McCartney
says "a lot of people would just rather pay cash." Respiratory Services
(RS) does contract with a national company that pays RS for labor when
clients (from the national company) need service.
The new
location in Henrietta has added jobs to the community and will have a
team of customer service representatives, retail associates, respiratory
therapists, and delivery technicians. All insurances are accepted, and
RS will conduct all communication between the doctor's office and the
insurance companies so that customers receive medical equipment in a
speedy manner.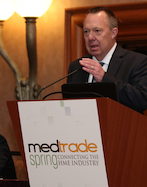 "It's gratifying to see an instance of a company
opening a new location in today's challenging reimbursement environment
for HME," said Tom Ryan, president and CEO of the American
Association for Homecare. "I expect to see more companies emphasizing
retail sales, including aids to daily living, to help balance out the
pressures that competitive bidding Medicare rates put on
profitability. AAHomecare is doing all we can to reverse the trend of
continually lowering rates from Medicare and other payers that follow
their lead, and I'm confident that we're going to have more success in
that area going forward."